Children's DVD & Blu-ray
Here you'll find a huge selection of DVDs & Blu-ray for children, including all their favourite characters: Peppa Pig, The Gruffalo, Shaun the Sheep, Fireman Sam and more. From popular TV show DVDs to feature length films, you're bound to find lots to entertain the kids and keep them laughing.
Popular Children's DVD Categories
Browse Popular Children's TV Shows
Children's DVD & Blu-ray
Features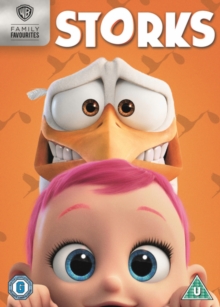 Warner Bros. animated adventure featuring the voice talents of Andy Samberg, Jennifer Aniston, Ty Burrell and Kelsey Grammer.
Hunter (Grammer), The Stork Co. CEO, has made a change to his business: his stork employees now deliver online purchases to customers of Cornerstone.com instead of delivering babies.
When the best delivery stork, newly-promoted Junior (Samberg), mistakenly makes a baby to be...
Disney Channel TV Shows on DVD