Comedy on DVD & Blu-ray
If you like a laugh you've come to the right place! Here you'll find some of the funniest movies and TV shows, both past and present, along with the best in stand-up comedy. From cartoon comedy, to those addictive TV box sets. Look no further for a great selection of comedy on DVD.
Comedy Bestsellers on DVD & Blu-ray
Popular features in Comedy
Our Featured Comedy Boxset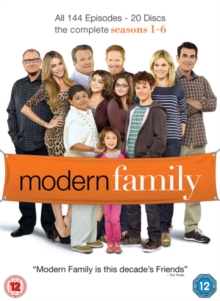 All 144 episodes from the first six seasons of the Golden Globe-winning mockumentary-style sitcom following three branches of a sprawling, cheerfully dysfunctional, multi-cultural family in Los Angeles.
Season 1 episodes are: 'Pilot', 'The Bicycle Thief', 'Come Fly With Me', 'The Incident', 'Coal Digger', 'Run for Your Wife', 'En Garde', 'Great Expectations', 'Fizbo', 'Undeck the Halls', 'Up All...