Horror on DVD & Blu-ray
We have a huge range of scary films and TV shows on DVD and Blu-ray, plus all those horror cult classics to add to your collection. Here you'll find bestsellers, plus new releases and pre-orders on DVD and Blu-ray.
Why not have a browse and discover some horror films and TV shows, We have classics such as the The Exorcist and Evil Dead as well as more modern franchises such as The Conjuring and Paranormal Activity. Prepare to be scared!
Bestselling Horror films on DVD & Blu-ray
Top Horror features
Popular Horror Films and Categories
Horror on DVD & Blu-ray
Popular Features
Recently Released Bestseller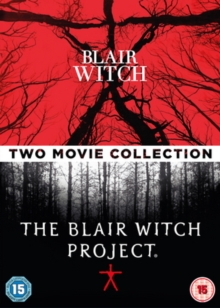 Double bill of documentary-style horror films. 'The Blair Witch Project' (1998) follows three students from Burkittsville - Heather (Heather Donahue), Josh (Joshua Leonard) and Michael (Michael Williams) - as they head into the woods to investigate the local legend of the Blair Witch, a spirit blamed for the deaths of various children.
After trekking deep into the forest, the group lose their map,...