Horror on DVD & Blu-ray
We have a huge range of scary films and TV shows on DVD and Blu-ray, plus all those horror cult classics to add to your collection. Here you'll find bestsellers, plus new releases and pre-orders on DVD and Blu-ray.
Why not have a browse and discover some horror films and TV shows, We have classics such as the The Exorcist and Evil Dead as well as more modern franchises such as The Conjuring and Paranormal Activity. Prepare to be scared!
Bestselling Horror films on DVD & Blu-ray
Top Horror features
Popular Horror Films and Categories
Horror on DVD & Blu-ray
Popular Features
Recently Released Bestseller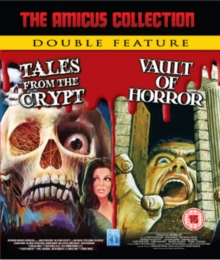 Double-bill of classic horror films. In 'Tales from the Crypt' (1972), five strangers go with a tourist group to explore a set of old caves.
However, after becoming separated from the main party, a mysterious crypt keeper appears and begins to detail how each of them will die. 'Vault of Horror' (1973) features five separate horror tales, linked by the story of five men trapped in a vault beneath...
Top Occult Themed Movies