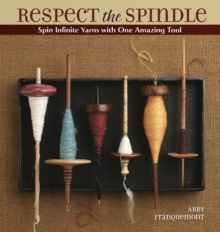 Respect the Spindle : Spin Infinite Yarns with One AmazingTool
Paperback
Description
Portable and productive, the hand spindle has been responsible for creating the world's yarn for millennia.
Many contemporary spinners view the hand spindle as a beginner's tool, suited to learn the basic steps of spinning before moving on to a spinning wheel.
In Respect the Spindle, Franquemont emphasizes the spindle's importance and use to make yarn in advanced ways for high-end to novelty cloth.
In fact, the yarns and cloth made for thousands of years-Viking sails, Egyptian shrouds, Roman togas-all were created with the use of hand spindles. And, in other parts of the world, the spindle still reigns supreme, supplying astounding volumes of yarn for every purpose imaginable.
The perfect how-to book for any spinner with a growing collection of spindles or even just a dowel, Respect the Spindle combines step-by-step photography with detailed illustrations, making the spindle spinning techniques clear to even the novice spinner.
Franquemont teaches techniques from the basics, such as getting started on the spindle, to more specialized techniques, such as using the spindle to make specific kinds of yarn faster than imagined. Profiles of spindle spinners from various traditions are presented in sidebars throughout the book, which introduce heartwarming and historical fiber stories from around the world.
Images of gorgeous yarn and spindles provide inspiration and plenty of eye candy for any fiber lover.
Franquemont also includes five simple projects give spinners practice in creating a variety of yarns and patterns.
Information
Format: Paperback
Pages: 128 pages, 128 colour illustrations
Publisher: Interweave Press Inc
Publication Date: 10/11/2009
Category: Spinning & weaving
ISBN: 9781596681552
Free Home Delivery
on all orders
Pick up orders
from local bookshops
Reviews
Showing 1 - 4 of 4 reviews.
Review by mvrdrk
16/06/2015
Excellent book about spindle spinning for beginners.
Review by Janientrelac
16/06/2015
Superb book, not just about spindles and creating yarn by spindling but about the cultural background and history, what wheels change about the culture. Something like the differance between swords and guns. Don't think I will ever make the effort to learn to use a spindle well, but at least I know why not.
Review by MarthaJeanne
16/06/2015
Obviously, I wouldn't have bought this if I didn't want to spin, but it has intensified that desire. Now to find my spindle - or a new one and try it out. I'll update when I know if it took.
Review by ScotDeerie
16/06/2015
I worked back and forth between this book and the DVD by the same name to teach myself drop spindling at home. It worked pretty well. By the time I got to my local weaver's guild I had only a few flaws that needed to be worked out by a live spinner's observations and comments.