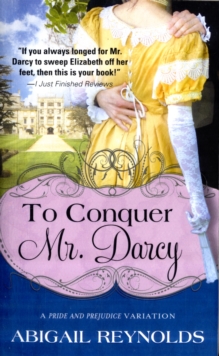 To Conquer Mr. Darcy
Paperback
Description
What if, instead of disappearing from her life after Elizabeth Bennet refuses his awkward marriage proposal, Mr. Darcy took the initiative and tried to change her mind?
In "To Conquer Mr. Darcy", Darcy follows Elizabeth back to her home in Hertfordshire and sets about making himself so irresistible her impulses win out over her sense of propriety until, madly in love and mutually on fire, their passion anticipates their wedding.
Information
Format: Paperback
Pages: 416 pages
Publisher: Sourcebooks, Inc
Publication Date: 27/08/2010
Category: Romance
ISBN: 9781402237300
Free Home Delivery
on all orders
Pick up orders
from local bookshops
Reviews
Showing 1 - 5 of 5 reviews.
Review by knittingmomof3
16/06/2015
From My Blog...Previously released as Impulse & Initiative, To Conquer Mr. Darcy by Abigail Reynolds is a look at what would have happened if Jane Austen had chosen a different path with Pride & Prejudice. Abigail Reynolds chooses to write her version asking the question: What would happen if Mr. Darcy did not accept Elizabeth's first rejection of marriage? In this Pemberley Variations series of Reynolds, To Conquer Mr. Darcy, while well researched and smooth flowing, the innocence of Pride & Prejudice is lost and turns into a historical romance novel in its own right. Reynolds' novel is fast-paced with an intense relationship between Mr. Darcy and Elizabeth, which takes away, for me, the heart-warming event that turns Elizabeth towards Mr. Darcy. For anyone looking at what might have occurred had Austen chosen to write Pride & Prejudice differently, Reynolds has done so brilliantly in To Conquer Mr. Darcy.
Review by blodeuedd
16/06/2015
I have been wanting to read this book for some time, not just because I like all sorts of Jane Austen sequels and variations, but because I like the what if question. Also this book is more the To conquer Miss Bennet kind of book. Darcy is a force to be reckoned with.This book takes another route, after Lizzy has returned from that awful proposal Mr Darcy shows up with Mr Bingley. This time he will not take no for an answer and decided to court her, gain her friendship and all of her. And that he sure gets too. I am weird when it comes to HR sometimes, and I end up thinking "no one buys the cow if the milk is free". Here it worked, because in the end, who wouldn't be seduced by Mr Darcy. Stolen kisses, embraces and I am seduced by it all too. But I guess the point here is that he wants her, and he is not going to tire of her just because something happened. Mr Darcy is the true gentleman. if I wasn't already in love with him I would fall for him in this book. He makes an effort to be a better man, a man she deserves, he pursues her, makes her laugh, makes her want him. And all while I am delighted and grinning. Jane Austen would be shocked for sure.The romance is lovely to watch, she melts, and like I already wrote, Mr Darcy is worth reading this book for. I have never seen him like this, and I am loving it. We also meet Bingley and Jane of course and they get their HEA, and do not forgot Lydia's mistake. The book follows the general storyline and that is here too.But I did miss one thing, and it had to to with Lady de Burgh, but then again who needs her.Final thoughts: Sweet, and Mr Darcy is quite the seducer.
Review by tivonut
16/06/2015
Didn't stay on track and seemed like 4 stories. Continued on too long at points and had a bunch of light erotica that should have only been eluded to or shortened. At points I enjoyed it, then I would be bored or irritated then back to enjoying another direction to the story, then back to... falling asleep during the sex, just too much. It was good at points and bad in others and lasted too long in the end. An OK read.
Review by mojo09226
16/06/2015
I tried about fifty times to get into this book but I couldn't. This one is just not for me
Review by mojo09226
27/01/2016
I tried about fifty times to get into this book but I couldn't. This one is just not for me