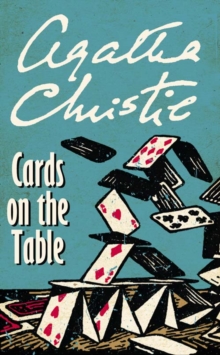 Poirot : Cards on the Table
Paperback
Part of the Poirot series
Description
A flamboyant party host is murdered in full view of a roomful of bridge players...Mr Shaitana was famous as a flamboyant party host.
Nevertheless, he was a man of whom everybody was a little afraid.
So, when he boasted to Poirot that he considered murder an art form, the detective had some reservations about accepting a party invitation to view Shaitana's private collection.
Indeed, what began as an absorbing evening of bridge was to turn into a more dangerous game altogether...
Information
Format: Paperback
Pages: 320 pages
Publisher: HarperCollins Publishers
Publication Date: 04/06/2001
Category: Classic crime
ISBN: 9780007119349
Free Home Delivery
on all orders
Pick up orders
from local bookshops
Reviews
Showing 1 - 3 of 3 reviews.
Review by lecari
16/06/2015
Another entertaining Poirot – I found it absolutely fascinating to read, especially by the way that Poirot deducts the murderer by asking questions about what they remembered of the room that evening and how their bridge game went. I have seen the TV film of this one but it didn't ruin it for me at all. Agatha Christie has a great way with words, and makes the story seem so alive and kept me engaged the whole way through. I got halfway and couldn't put it down!Mrs Oliver, the author, was great fun to read, too, which didn't let the book get too 'heavy.' But just as you think you know who the murderer is, there's a great twist at the end! I also liked how my copy had copies of their bridge cards, that Poirot talks about throughout the story; I don't understand card games at all but I thought it was a nice touch. It made the story seem a lot more 'real.'
Review by orange_suspense
16/06/2015
There's not much to say about Cards on the Table, for it is nothing else than perfect detective fiction featuring one of the most famous private detectives there ever was: Hercule Poirot. This time Poirot has to deal with a twisted murder case that happens right under his nose with all the possible subjects gathered at the same bridge party of crazy Mr. Shaitana. With no physical clue to go on, Poirot has to make extensive use of his little grey cells to finally reveal the murder and his hidden secrets from his dark past.Compared to classics like The Murder of Roger Ackroyd or Murder on the Orient Express, the plot could have been a bit more crisp in the beginning of the inquiries – but soon after that the story comes up with twists, twists and – again: twists. The ingenuity of Hercule Poirot is again proven to be singular - for even when Poirot seems to be mistaken, he is still right in the end. Impossible?…not for Poirot.p.s. I think knowing the bridge rules really helps experiencing the atmosphere of the novel a lot – sadly I never played for myself
Review by bbbart
16/06/2015
A very refreshing Christie, if I may say so. And I may, since she tells you so herself in the foreword: only four suspects, all known upfront and all equally likely to have committed the investigated murder.<br/><br/>Needless to say, in a purely psychological investigation, Poirot is at his best. Or should I say: Christie is at her best? I loved Poirot's stubbornness and the many twists at the end of the book. Also, the (presumably) autobiographic anecdotes disguised as being Mrs Olivers ensured lovely interludes in the story. Finally, I also liked the fact that this Poirot story was not written from the first-person but from the third-person perspective. Very refreshing.<br/><br/>One of the best Poirot novels, if you ask me!