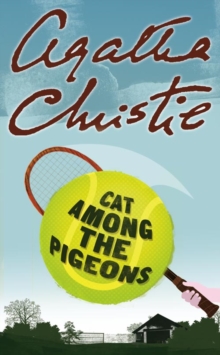 Poirot : Cat Among the Pigeons
Paperback
Part of the Poirot series
Description
Unpleasant things are going on in an exclusive school for girls - things like murder...Late one night, two teachers investigate a mysterious flashing light in the sports pavilion, while the rest of the school sleeps.
There, among the lacrosse sticks, they stumble upon the body of the unpopular games mistress - shot through the heart from point blank range.
The school is thrown into chaos when the 'cat' strikes again.
Unfortunately, schoolgirl Julia Upjohn knows too much.
In particular, she knows that without Hercule Poirot's help, she will be the next victim...
Information
Format: Paperback
Pages: 262 pages
Publisher: HarperCollins Publishers
Publication Date: 07/01/2002
Category: Classic crime
ISBN: 9780007120789
Other Formats
Hardback from £10.65
EPUB from £2.99
Free Home Delivery
on all orders
Pick up orders
from local bookshops
Reviews
Showing 1 - 2 of 2 reviews.
Review by bcquinnsmom
16/06/2015
don't worry! no spoilers. Just a synopsis.I wouldn't rank it up there among my favorites, but Cat Among the Pigeons was quite good. Quite late in the Hercule Poirot series (1959), the great Belgian detective only appears toward the end of this one. Basic synopsis: Ramat, a fictional country somewhere in the Middle East, is poised on the edge of revolution. The leader at the time, one Ali Yusuf, knows that revolution is coming, and entrusts his friend and private pilot with a cache of jewels, giving him instructions to get them out of the country and into safe hands. Rawlinson cannot think how he's going to do this, then settles on the idea of hiding them with his sister, who his there with her daughter on holiday. But he can't think of a place that won't be searched, so he goes to her hotel room while she's out, and hides them in the best place he can think of: in the handle of his niece's tennis racket. The revolution comes, Ali and Rawlinson fly out, and both are killed when their plane is sabotaged.We then learn that the niece, Julia Upjohn, has enrolled at the Meadowbank school, an exclusive, upper-class establishment. After school starts, there are some strange happenings there, none the least of which are two murders. Another student, Jennifer Sutcliffe, had switched rackets with Julia, and thinks it odd when a strange woman comes to Julia and gives her a new raquet, supposedly sent to her by her aunt. After the murders, though, Jennifer begins to put two and two together and goes to seek help from M. Poirot, who doesn't take long to realize that they are dealing with a clever mind.I still cannot read any Hercule Poirot mysteries without hearing and seeing David Suchet in the Poirot role! The book was very well written and the mystery a surprise -- and I enjoyed it very much.
Review by riverwillow
16/06/2015
Poirot, who comes to this story rather late, investigates two murders and a kidnapping at a girl's boarding school. Somehow the murders and kidnapping are linked to a revolution in a Middle Eastern State and a cache of jewels belonging to the murdered Emir. As always the plot is peppered with disinformation and red-herrings and, as usual the identity of the murderer is surprise