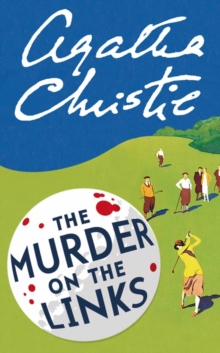 Poirot : The Murder on the Links
Paperback
Part of the Poirot series
Description
On a French golf course, a millionaire is found stabbed in the back...An urgent cry for help brings Poirot to France.
But he arrives too late to save his client, whose brutally stabbed body now lies face downwards in a shallow grave on a golf course.
But why is the dead man wearing his son's overcoat? And who was the impassioned love-letter in the pocket for?
Before Poirot can answer these questions, the case is turned upside down by the discovery of a second, identically murdered corpse...
Information
Format: Paperback
Pages: 320 pages
Publisher: HarperCollins Publishers
Publication Date: 04/06/2001
Category: Classic crime
ISBN: 9780007119288
Free Home Delivery
on all orders
Pick up orders
from local bookshops
Reviews
Showing 1 - 5 of 5 reviews.
Review by DeltaQueen50
16/06/2015
Murder on the Links is the second Hercule Poirot mystery from Agatha Christie. In this story, told by Poirot's friend Hastings, we are given a convoluted mystery about a body of a man found in a soon to be built bunker on a proposed golf course. The setting is the chateau in France of this rich yet mysterious dead man. Timing seems to be the matter that concerns Poirot's little grey cells and, in this case, the timing is very difficult to work out. A good mystery and, we are also treated to the story of how Hastings meets his wife to be and comes to go to South America and raise cattle. Hercule Poirot is in fine form during this story as Agatha Christie reveals more of this man's character and motivation. His ego, always a large one, gets plenty of stroking from the local French police that are very happy to see him show up and include him in all details of the case. His superior ways can be a little grating at times but in this case we root for Poirot to solve the mystery before a very snooty Parisian detective does.Charming and witty, with lots of red herrings to throw you a curve, I enjoyed Murder on the Links very much. As with all of Christie's mysteries, the fun outweighs the obvious coincidences that she relies upon to move the plot forward.
Review by Britt84
16/06/2015
A nice, solid detective. The story keeps you guessing, it's complicated enough to not be too straightforward.
Review by RubyScarlett
16/06/2015
The plot isn't the best by any means but that was quite charming. The tone is light - Hasting's romance (not with Poirot though ;)) and his being constantly wrong about everything was fun though completely clownish at times. The Cinderella subplot especially was completely unexpected to me. You can tell Christie's trying to find the right tone for her stories and hasn't quite found it yet. Nothing wrong with that - wouldn't reread but it was nice enough while it lasted.
Review by bbbart
16/06/2015
waw, what an amazing plot this one has. as an actively deducing reader, I was constantly set on the wrong foot. the murder case is wonderfully concieved, brilliantly laid out and the plot of the book contains suspense, action and turns on every page. an exceptional story in the Poirot-series by the great Agatha Christie.
Review by BookConcierge
27/01/2016
Audio book performed by Hugh Fraser<br/><br/>Captain Arthur Hastings narrates this second book in the mystery series featuring Hercule Poirot. It all begins when Hastings meets a young woman on a train. In short order Poirot receives a letter from a South American millionaire living in France stating that his life is in danger and pleading with Poirot to come at once. Hastings and Poirot immediately go to France, only to find that their "client" has been murdered. There is no shortage of suspects – wife, son, neighbors, vagrants, even the girl on the train shows up. The local police are not happy to have Poirot interfering but he insists on his using his superior "little grey cells" to ferret out the truth amid all the clues, red herrings, prevarications, and intrigues. <br/><br/>I love Poirot, but I don't think this is Christie's best effort. In my opinion, the whole love-interest between Hastings and the girl stretches credulity too far, and is totally superfluous to the basic plot; did I say "basic" – it's really far from basic, in fact it's overly complicated. Given that this was originally published in 1923, and was only the second book in the series, I should probably cut Christie some slack, and I will. It's still an entertaining cozy, and I was interested from beginning to end. <br/><br/>Hugh Fraser does a marvelous job performing the audio version. He really brings Poirot (and the many other characters) to life. <br/>