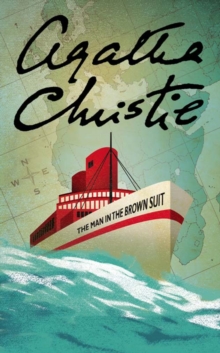 The Man in the Brown Suit
Paperback
Description
A young woman investigates an accidental death at a London tube station, and finds herself of a ship bound for South Africa...Pretty, young Anne came to London looking for adventure.
In fact, adventure comes looking for her - and finds her immediately at Hyde Park Corner tube station.
Anne is present on the platform when a thin man, reeking of mothballs, loses his balance and is electocuted on the rails.
The Scotland Yard verdict is accidental death. But Anne is not satisfied. After all, who was the man in the brown suit who examined the body? And why did he race off, leaving a cryptic message behind: '17-122 Kilmorden Castle'?
Information
Format: Paperback
Pages: 384 pages
Publisher: HarperCollins Publishers
Publication Date: 04/11/2002
Category: Crime & mystery
ISBN: 9780007151660
Free Home Delivery
on all orders
Pick up orders
from local bookshops
Reviews
Showing 1 - 2 of 2 reviews.
Review by breakerfallen
16/06/2015
A good book by Christie that doesn't fit what became her traditional formula. It alternates well between a first person account by Anne and the journal/diary of Sir Edgar. There is even a little love-interest typically absent in novels Christie wrote under her own name.
Review by Olivermagnus
27/01/2016
The Man in the Brown Suit begins with Anne Beddingfeld, the daughter of a professor who longs for adventure. She spends her day trying to avoid creditors and longing to meet a nice young man. When her father dies, she takes an opportunity to go to London, where she witnesses the death of a man. Finding a piece of paper dropped at the scene, she believes the death to be linked to that of the murder of a young woman at the house of Sir Eustace Pedlar. With only eighty five pounds to her name, her deductions ignored by the police, she boards a ship bound for South Africa. On board she meets not only Sir Eustace Pedlar but his secretary Guy Pagett, society beauty Suzanne Blair, the enigmatic Colonel Race and the attractive Harry Rayburn. If she can find out who the man in the brown suit is, seen leaving Sir Pedlar's house shortly after the murder, she hopes for a job as a journalist.<br/><br/>The story starts off at a slow pace, but it builds momentum with multiple deaths, stolen jewels, an old injustice, and kidnappings. Published in 1924 it was actually written in serialized form as "Anne the Adventuress". I'm not a huge Christie fan but I did enjoy the quirky characters, lively dialogue and entertaining adventure story.<br/><br/>Overall, The Man in the Brown Suit is not the greatest mystery book, nor the greatest Agatha Christie book. It is, however, a very enjoyable addition to her highly acclaimed body of work and any Christie fan is bound to enjoy it.<br/>