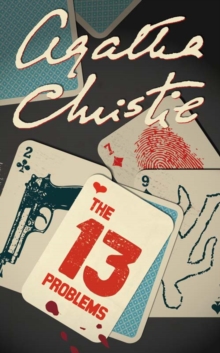 The Thirteen Problems
Paperback
Description
The Tuesday Night Club is a venue where locals challenge Miss Marple to solve recent crimes...One Tuesday evening a group gathers at Miss Marple's house and the conversation turns to unsolved crimes...The case of the disappearing bloodstains; the thief who committed his crime twice over; the message on the death-bed of a poisoned man which read 'heap of fish'; the strange case of the invisible will; a spiritualist who warned that 'Blue Geranium' meant death...Now pit your wits against the powers of deduction of the 'Tuesday Night Club'.
Information
Format: Paperback
Pages: 320 pages
Publisher: HarperCollins Publishers
Publication Date: 04/03/2002
Category: Crime & mystery
ISBN: 9780007120864
Other Formats
Hardback from £10.65
CD-Audio from £13.29
EPUB from £4.24
Paperback from £7.15
Free Home Delivery
on all orders
Pick up orders
from local bookshops
Reviews
Showing 1 - 2 of 2 reviews.
Review by ScottKalas
16/06/2015
It was different in that is was a collection of short stories or more of a mystery with no fluff just the facts and the whodunit in about 25 pages. Kind of makes me wonder why I read a mystery with 400 pages of fluff.
Review by Nandakishore_Varma
16/06/2015
When one utters the word "detective" or "sleuth", what is the image that comes to mind? A studious gentleman with monocle wandering about with a magnifying glass? A trench-coated, lantern-jawed, hard-boiled individual prowling the back alleys of dark America? Or... a little, pink old lady sitting in the corner, trying to catch up on her knitting?<br/><br/>For fans of Agatha Christie's Miss Marple, the third image is as valid as the first two.<br/><br/>This unlikely detective relies on her intimate knowledge of human nature, having had "the opportunity to observe it at close quarters" in a village like St. Mary Mead, to solve mysteries. She compares the love affair of her nephew Raymond West with that of the milkman and the maid: and when the self-important, intellectual, avant-garde novelist is shocked that he could be compared to such a lowly individual, Miss Marple says affably that "everyone is very much like" everyone else. It is this predictability of human nature that the old lady draws upon to arrive at her conclusions.<br/><br/><i>The Thirteen Problems</i> contains two sets of six stories each in the same format. A group of individuals are relaxing with drinks after dinner in a cosy British parlour. Each of the people tell a story - a real life mystery the solution to which only he/ she knows - and the others have to guess. The idea is mooted by Raymond, who is initially incredulous that his aunt wants to "play" at all. However, his incredulity changes to bewilderment and grudging admiration ( a sentiment shared by others at the gathering) when Miss Marple emerges the winner each and every time, by comparing it with a village parallel.<br/><br/>One of the members of the gathering is Sir Henry Clithering, retired Commissioner of Police. He and Miss Marple are the common factors in the second set of stories, where the parlour is different and the participants are different. However, Miss Marple comes up trumps once again. Sir Henry leaves with lasting respect in his mind for this "finest sleuth" in the world.<br/><br/>Which is why, in the last story, he prepares to take on the task Miss Marple has entrusted him with: save an innocent from punishment for a crime which he has not committed. Armed with the foreknowledge of the name of the person Miss Marple thinks is the murderer, Sir Henry is able to succeed. The story ends with the significant sentence:<br/><blockquote><i>Miss Marple had been right again.</i></blockquote><br/>Yes, it has indeed become a habit for this little old lady.<br/><br/>***<br/><br/>Everyone would have their own favourites in this collection; mine are <i>The Idol House of Astarte</i> and <i>The Blue Geranium</i>. However, each one is a gem.<br/><br/>This book is a masterpiece of the genre.
Also in the Miss Marple series | View all