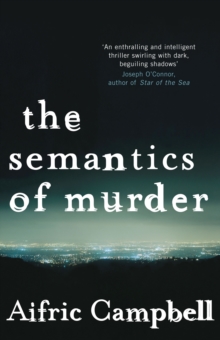 Semantics of Murder
Paperback
Description
Jay Hamilton lives a comfortable life in fashionable west London, listening to the minor and major dysfunctions of the over-privileged clients who frequent his psychoanalytic practice.
But the darker recesses of his own psyche would not stand up to close examination: his brother Richard, a genius professor of mathematical linguistics, was apparently killed by rent boys in Los Angeles and Jay was the first on the scene. Author Dana Flynn is determined to scratch beneath the surface while researching a biography she intends to write about Richard, and finds that Jay's professional life is as precarious as his personal relationships - he uses his clients' case studies as material for his fiction writing. Such is Jay's hunger for recognition as a creative force that he exploits the vulnerable people he counsels, and a decision not to intervene when a troubled patient steals a baby, causes his past to unravel.
Information
Format: Paperback
Pages: 256 pages
Publisher: Profile Books Ltd
Publication Date: 30/04/2009
ISBN: 9781846686580
Free Home Delivery
on all orders
Pick up orders
from local bookshops
Reviews
Showing 1 - 1 of 1 reviews.
Review by Tinwara
16/06/2015
This is a novel that keeps on nagging me. It is an intelligent novel, a novel of ideas so to say, and it is probably for this reason that I am eager to like it. Also, the author says intelligent and interesting things in the interviews with her that I have read.Still... Why didn't I truly like it? Is it because the main character, Jay, is so unsympathetic? Because it is always easier to identify with a nice protagonist? Perhaps this plays a role. Even if Jay may be unsympathetic, he is still interesting. He is a sharp observer of human behaviour and sharply analyses the modern culture of complaining and the way people use (easy) psychology to victimize themselves. His conviction is that everyone wants to make a sensible story of their lives, even if it is a reconstruction that disregards all things that don't make sense to the story, but are still part of someone's live. Jay is a psychotherapist in London. He dislikes his patients and uses their stories as material for the novels and short stories he writes and publishes (under a pseudonym). His own life is turned upside down as another story writer appears in his life, Dana Flynn, who is doing research for a biography of Robert Hamilton, Jay's older brother. Robert was a talented philosopher, linguist and scientist, who has been murdered over 30 years ago. In flashbacks we get to know Jay's past, or better, the way he has constructed his own past in such a way that his behaviour makes sense. The book is smartly constructed. It is even kind of hard to tell the full story and its several story lines in the short space of a review. But is also clinical, a businesslike reconstruction in which the pieces fall exactly in the right place and which lacks emotion. It seems to be less about the story than about the idea. And at times, the idea obstructs the story. Jay's youth for example is dominated by classical Freudian themes, so much so, that even though this is his own reconstruction I wonder why he can be so sharp in identifying these themes in other people's stories, he can't identify them in his own story. Also I wondered why Jay has so many clients if he is such an asshole psychotherapist.
Also by Aifric Campbell