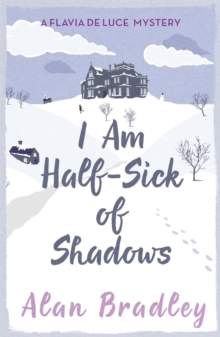 I Am Half Sick of Shadows
Paperback
Description
Christmas is coming - but for Flavia de Luce, in the deep midwinter there's a murder to solve...All is not well at Buckshaw, home of Flavia de Luce...With the family finances in a parlous state, Flavia's father has, with deep misgivings, rented Buckshaw to a film company for a location shooting.
Naturally enough, director, crew and stars do nothing to endear themselves to the household - especially the servants - until, when a heavy snowfall cuts off Bishop's Lacey from the rest of the world, the actors are talked into staging a benefit performance in the parish hall.
But old jealousies surface, and the leading lady is murdered.
Flavia, who has been enlisted to help out behind the scenes, finds herself up to her knees in snow - and murder!
Information
Format: Paperback
Pages: 320 pages
Publisher: Orion Publishing Co
Publication Date: 08/11/2012
Category: Crime & mystery
ISBN: 9781409118176
Free Home Delivery
on all orders
Pick up orders
from local bookshops
Reviews
Showing 1 - 2 of 2 reviews.
Review by readingwithtea
16/06/2015
"Dieter Schrantz, tall, blond and handsome, as they say on the wireless, stood on the doorstep, smiling at me with his perfect teeth. Dieter's sudden appearance was a bit disconcerting: it was somewhat like having the god Thor deliver the furniture in person."In this fourth instalment of the Buckshaw mystery series featuring Miss Flavia de Luce as junior detective extraordinaire, the family finances have become so dire that Colonel de Luce has been forced to rent out the family home to a cinema cast as the setting for Miss Phyllis Wyvern's latest tragedy. Tragedy strikes while the cast and most of the village of Bishop's Lacey are in residence, and Flavia must abandon her chemical experimenting for sleuthing duties.Just like the other three in this series, this is a cosy mystery with a hefty dollop of chemistry thanks to our prodigious and precocious heroine. Flavia's naivete and scientific passion offsets the somewhat grim plot of a guest strangled in a country mansion slowly sliding into disrepair. Flavia allmost seemed more child-like in this instalment than in the previous book, which I found odd, but she is still one of the more delightful detectives I've encountered in the genre. Rash, sweet and sweetly innocent, coldly intelligent, charming, not quite as capable as she thinks she is of fooling adults and her older sisters.Time and page inches were invested more in the characters of Daphne and Dogger in this book at the expense of more heavily-featured characters from other books, particularly the Colonel - and it is well worth it as we keep watching the relationship between the three sisters of the house develop. Dogger is somewhat of a deus ex machina, but we'll forgive that given how intriguing he is.Bradley makes heavy use of dream sequences in a way I do not remember from the previous books, and I wonder whether he is itching to let Flavia grow up a bit. A number of times she is not certain of an adult concept and either notes down that she must ask someone about it later, or is easily satisfied with a very simple answer.I read this just before departing to a country hotel for a few days across Christmas, and it was almost perfect timing - Buckshaw in the snow, in the lead up to Christmas is highly atmospheric. Flavia's schemes to catch Father Christmas in the act of depositing presents are cutely funny (and ultimately useful to the plot) and while I struggle to visualise the huge house (which seems alternately enormous and normal-sized), she spends quite a while roaming on the roofs of the building, knee-deep in snowdrifts. There is a sleigh hooked up to a tractor, cocoa proves to be the exception to prove the rule of Mrs Mullet's appalling cooking, and a serious quantity of carolling takes place.If you are a devotee of the series, definitely one to read. If this has whetted your appetite, go back to the start and read your way through all four. And this series is definitely recommended for anyone with recent or present contact with a precocious pre-teen, purely because the heroine is so charming.
Review by Helenliz
27/01/2016
Turns out this is 4th in the series, but hey ho, not sure it mattered that much. Our narrator is Favia de Luce, the youngest daughter of a down at heel upper class family with a strong scientific bent. She has that mixture of knowing and naivety that pre-teens seem to have. She also has a nose for crime and investigation. An interesting idea for a narrator. This starts with the house having been let to film crew for the Christmas season and the film crew duly arrive and create all sorts of upheaval. The leading lady, Phylis Wyvern turns up dead before the film has taken shape and by various degrees the murderer is caught. It became a bit madcap at the end, but it was a fun ride. There were some very interesting touches, Dogger being a Japanese POW, for instance, leads to some interesting questions and scenes. This was fun to listen to.
Also in the Flavia De Luce Mystery series | View all