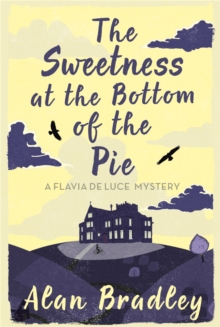 The Sweetness at the Bottom of the Pie : A Flavia de Luce Mystery Book 1
Paperback
Description
Meet Flavia: Mystery Solver. Master Poisoner. 11 Years Old.England 1950. At Buckshaw, the crumbling country seat of the de Luce family, very-nearly-eleven-year-old Flavia is plotting revenge on her older sisters.Then a dead bird is left on the doorstep, which has an extraordinary effect on Flavia's eccentric father, and a body is found in the garden.
As the police descend on Buckshaw, Flavia decides to do some investigating of her own.Praise for the historical Flavia de Luce mysteries:'The Flavia de Luce novels are now a cult favourite' Mail on Sunday'A cross between Dodie Smith's I Capture The Castle and the Addams family...delightfully entertaining' GuardianFans of M.
C. Beaton's Agatha Raisin, Frances Brody and Alexander McCall Smith will enjoy the Flavia de Luce mysteries:1.
Sweetness at the Bottom of the Pie2. The Weed That Strings the Hangman's Bag3. A Red Herring Without Mustard4. I Am Half Sick of Shadows5. Speaking From Among the Bones6. The Dead in Their Vaulted Arches7. As Chimney Sweepers Come To Dust8. Thrice the Brinded Cat Hath Mew'd9. The Grave's a Fine and Private PlaceIf you're looking for a cosy crime series to keep you hooked then look no further than the Flavia de Luce mysteries.* Each Flavia de Luce mystery can be read as a standalone or in series order *
Information
Format: Paperback
Pages: 384 pages
Publisher: Orion Publishing Co
Publication Date: 01/02/2010
Category: Crime & mystery
ISBN: 9780752883212
Free Home Delivery
on all orders
Pick up orders
from local bookshops
Reviews
Showing 1 - 5 of 5 reviews.
Review by CatyM
16/06/2015
When she finds a body in the garden, eleven year old Flavia de Luce puts her passion for chemistry and the tricks she's learned outwitting her sisters to good use in her attempt to untangle the mystery.I have slightly mixed feelings about this novel. I wasn't convinced by the character of Flavia across the whole book… but sometime she was completely believable as a bratty child playing tricks on her sisters and thinking she knew better than all the grown-ups. I didn't find the setting in 1950s England convincing… but the entertainment value of the story was pretty good, and the writing was engaging.I wasn't thrilled with the <i>deus ex machina</i> ending… but I think I'd have found any other ending even harder to swallow, and at least this did show that no matter how clever and resourceful Flavia was, she was also vulnerable. I'm struggling to decide whether to rate it at 3½ or at 4 - it scores high as an entertaining read, and as an intriguing puzzle of a mystery, but it never really pulled me all the way in, and for that I think I'm taking it down to a 3½.
Review by Alirob
16/06/2015
A wonderful, funny, book. I forgave all the Americanisms which crept into the text; it is the best book I have read in a long while.
Review by whirligigwitch
16/06/2015
Fresh, original, quirky and vastly enjoyable novel.
Review by readingwithtea
16/06/2015
Summary: 11-year-old Flavia de Luce finds an expiring redhead in the cucumber patch. Her father is accused of the murder by the local constabulary, and it's up to Flavia to solve the problem, unaided by her terrible older sisters Ophelia and Daphne. Loyal man-about-the-house Dogger comes to her aid...This is the first Flavia de Luce mystery, the second being The Weed That Strings the Hangman's Bag, which I loved. Sweetness was excellent too - but I think that Bradley had really honed Flavia as a character a bit better when it came to the second book.All the characters are excellently set up - the three girls, their father, Mrs Mullet the cook, and Dogger, along with the various police personalities and of course the background of the dead man. Setting the mysteries in 1950s English countryside (Bradley is Canadian) provides a remote environment in which Flavia can operate much more independently and believably than she would be able to today. And the English countryside lends so much charm, with the family estate being in a general state of dilapidation (as always) and mysterious family money going back generations.As with Hangman's Bag, I would say that the book is a little simple, but it's very refreshing and Flavia is a delightful tour guide.
Review by AHS-Wolfy
16/06/2015
This is not my usual fare from the mystery table as I usually pick at the darker, seedier end and I went into this English country house murder mystery with a little trepidation. The sleuth and narrator is an 11 year-old girl, youngest of three sisters who live with their father at the crumbling ancestral home of Buckshaw in 1950's rural England. Flavia, the precocious girl in question, likes nothing more than experimenting in her chemistry laboratory and uses her inquisitive mind to concoct suitable vengeance on her two older siblings who always seem to gang up on her. Early one morning she discovers a dying man in the cucumber patch and is a little disconcerted when it turns out to be the same man she stumbled upon having an argument with her father the night before. Surely daddy didn't do it? But the police seem to think so and even go so far as to arrest him. After getting the brush off from the local inspector, Flavia takes matters into her own hand and tries to find out what really happened.The characters were superbly brought to life in a setting which allowed them to and while the mystery wasn't overly engaging, Flavia's attempts to find the clues and make sense of them was more than enough to keep me reading until the end. The pacing is almost spot on with moments of humour and reminders of the time period slipped in with the investigations. A pretty good début offering from a 69 year-old Canadian who had never stepped on English soil until after he wrote it. I'll definitely carry on with the series at some point.
Also in the Flavia De Luce Mystery series | View all