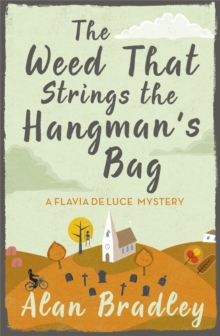 The Weed That Strings the Hangman's Bag : A Flavia de Luce Mystery Book 2
Paperback
Description
Murder and puppetry come to the village of Bishop's Lacey ...the second novel in the highly acclaimed Flavia de Luce mystery series. 'I was lying dead in the churchyard...' So says eleven-year-old Flavia de Luce - but soon a murder provides a gruesome distraction from her own death...A travelling puppet show arrives in the sleepy English village of Bishop's Lacey, and everyone gathers to watch a performance of Jack and the Beanstalk in the village hall.
But a shadow is cast over proceedings when a shocking murder takes place during the performance - a murder which strangely echoes a tragedy that occurred many years before.
For Flavia, undoing the complex knot that ties these strands together will test her precocious powers of deduction to the limit - and throw a revealing light into some of the darker corners of the adult world...
Information
Format: Paperback
Pages: 368 pages
Publisher: Orion Publishing Co
Publication Date: 01/02/2011
Category: Crime & mystery
ISBN: 9781409117605
Free Home Delivery
on all orders
Pick up orders
from local bookshops
Reviews
Showing 1 - 2 of 2 reviews.
Review by riverwillow
16/06/2015
I love Flavia, she is both a convincing eleven-year-old tearing around the village on her beloved bicycle, Gladys, and an excellent detective, determined to discover just who committed the murder. This is a charming, fun read.
Review by Lman
16/06/2015
This second adventure of Flavia de Luce - Miss Precociousness Personified - is a warm, somewhat irreverent romp through a further set of startling events in the short life of our fascinating heroine, even with another murder amidst the environs of her quaint locality, Bishop's Lacey. With just the right mix of childhood innocence, a huge dollop of genius, and an attitude and aptitude well beyond her years, there is also a vulnerability to Flavia which brings a tinge of poignancy to her personal circumstances, and a credulity to the premise of these books. A solitary, ofttimes-lonely, motherless child who is far too clever for her own good and whose escapades and dilemmas, thankfully, are not so unheeded as perhaps Flavia believes, altogether make this latest instalment a fast, enjoyable read; an entertaining glimpse of life through a thoroughly original perspective.Although underlying the story-line in <i>The Weed That Strings the Hangman's Bag</i> is Flavia's inimitable resourcefulness in her desire to outwit the local constabulary, when a visiting celebratory dies in the finale of his travelling puppet show, the real appeal, as in the first book, comes from the quirky paradigms and innovative pathways our young protagonist treads in securing the necessary knowledge to solve the case. And the multitude of engaging characters and lifestyles we meet along the way. In this narrative it is not so much about who did it, but why it was done, what preceded it, what Flavia cunningly observed and overheard before and after it, and what Flavia concocted (literally) along the way. Never has an 11 year-old person taught me so much about chemistry, philately, poisons and fine art!It must be said there are times when the perceptions afforded to this young girl ring a little off-key; questioning if a child would actually consider the matter as such. But the subtleties of Flavia's persona remain consistent throughout and her advanced acumen is often well-explained within the concept of the tale. Suffice to say this most charming and manipulative Miss displays enough pathos and ignorance at particular intervals to offset her amazing abilities at others. For without a doubt Flavia de Luce, if somewhat lacking in humility and diffidence, is not always as clever and self-sufficient as we are led to believe. There were times when my heart ached for her predicament; there were times when I wanted to shake her thoroughly; but mostly I admired her tenacity, her intensity and her spirit of indomitability.I'm not sure if there is a deeper meaning to Flavia's story but undoubtedly Alan Bradley succeeds in rendering a <i>joie de vivre</i> to her actions, an interest in her situation and an investment in her plight. A truly delightful character set amongst an assemblage of diverse and amusing individuals, I look forward to the next chapter in the merry absurdity of life with the de Luce family at Buckshaw - who knows exactly what that may be, but I know it will be fun!(Dec 4, 2010)
Also in the Flavia De Luce Mystery series | View all