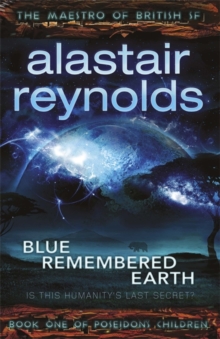 Blue Remembered Earth
Hardback
Description
BLUE REMEMBERED EARTH is the first volume in a monumental trilogy tracing the Akinya family across more than ten thousand years of future history ...out beyond the solar system, into interstellar space and the dawn of galactic society. One hundred and fifty years from now, in a world where Africa is the dominant technological and economic power, and where crime, war, disease and poverty have been banished to history, Geoffrey Akinya wants only one thing: to be left in peace, so that he can continue his studies into the elephants of the Amboseli basin. But Geoffrey's family, the vast Akinya business empire, has other plans.
After the death of Eunice, Geoffrey's grandmother, erstwhile space explorer and entrepreneur, something awkward has come to light on the Moon, and Geoffrey is tasked - well, blackmailed, really - to go up there and make sure the family's name stays suitably unblemished.
But little does Geoffrey realise - or anyone else in the family, for that matter - what he's about to unravel. Eunice's ashes have already have been scattered in sight of Kilimanjaro.
But the secrets she died with are about to come back out into the open, and they could change everything. Or shatter this near-utopia into shards ...
Information
Format: Hardback
Pages: 512 pages
Publisher: Orion Publishing Co
Publication Date: 19/01/2012
Category: Science fiction
ISBN: 9780575088276
Free Home Delivery
on all orders
Pick up orders
from local bookshops
Reviews
Showing 1 - 5 of 6 reviews.
Previous | Next
Review by reading_fox
16/06/2015
The beginning of Reynold's newest series, a trilogy set much closer to our current timeline than anything he's written before. Much lighter in tone but with the same grasp of scale and long term consequences it doens't quite have the same impact of characters that some of his earlier works have achieved, partly because the action is shared between two siblings. The Aikanya family is one of hte gobal superpowers, risen from the ashes of Africa following the devastaing AI bot driven wars driven by the Resources and Relocation shortage periods following the 20th century. The world is now in enforced peace with nanotech augmentation ensurring humanity behaves itself. Advanced AI constructs are forbidden, but local golems and automatics are prevalent, and the natiure of human conciousness fully understood - allowing personality mapping and 'chinging' - the ultimate in teleconferenceing where you cna inhabit another body. The Aikayna family made their fortunes a generation or two back with Eunice understanding the power to be gained form exploring the outer limits of the solar system and even if the trip took years, suspended annimation technology could cope. Now her fmaily has two black sheep - Geoffrey and Sandy, - who choose not to devote their time to family concerns and are studying elephant nurology and artisty outside of the Surveilled world, respectively. After Eunice's death the family require Geoffrey to travel to the Moon to inspect a bank vault Eunice left behind, and he takes this opportunity to catch up with his sister. Starting them on a massive chase following the clues that Eunice left for anyone to solve, and to make the decision that she couldn't face.Inventiv an imaginative Reynolds again manages to keep withint the laws of known physics - somethign that is truly impressive for a science fiction writer. The posabilities and constraints of hte societal implicatoins of nano-tech and the full understanding of neuro-biology are only touched upon, but that deft touch is enough. An interesting Afterward explains the decisions regarding Africa and the Elephants, a personal whimsy but well woven into the plot, I certainly didn't see the explanation coming. The only downside I experienced was the frequent swapping of viewpoint between Sandya nd Geoffrey leading us to situtations where we knew more than the characters did - Reynolds was pretty good at maintaining their perception of ignorance though.Enjoyable and another excellant work from one of the leading lights in Space Opera.
Review by paulhoff
16/06/2015
When I started the story I wasn't sure if I would like it. In the end it turned out to be a very solid book, perhaps the best Alaistar Reynolds book I have read.
Review by amobogio
16/06/2015
I was hugely disappointed in this book. The three main characters are all unlikeable and massivly self centered, humorless and dull. I love me some Alastair Reynolds but I couldn't get halfway through this pointless scavenger hunt of a book. This is likely a minority opinion but there are too many books to read to invest time in this one.
Review by tlockney
16/06/2015
Loved it even more on the second read.
Review by AmphipodGirl
16/06/2015
Hard to put down. Can't believe I have to wait until next year for volume 2!