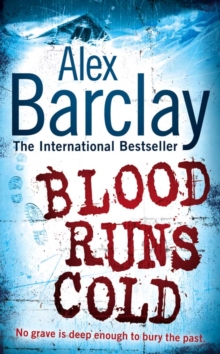 Blood Runs Cold
Paperback
Description
Kidnap and murder collide in Alex Barclay's heart-stopping new thriller featuring FBI Agent Ren Bryce.
The only way to reach the end is to turn back...When the body of FBI agent Jean Transom is found on the frozen slopes of Quandary Peak, the nearby town of Breckenridge, Colorado, becomes the focus of a major investigation.
A quiet, dedicated agent on the surface, it soon becomes clear that there was another side to Jean Transom. And who better to uncover it than Special Agent Ren Bryce, an expert in violent crime and a woman with secrets of her own; secrets that could compromise the entire investigation and put an end to her distinguished career.
Her boss, her informant, her colleagues, her ex - Ren needs to know who she can trust ...because the last person she can trust is herself.
Information
Format: Paperback
Pages: 496 pages
Publisher: HarperCollins Publishers
Publication Date: 01/12/2008
Category: Thriller / suspense
ISBN: 9780007268443
Free Home Delivery
on all orders
Pick up orders
from local bookshops
Reviews
Showing 1 - 2 of 2 reviews.
Review by debavp
16/06/2015
I had never heard of Barclay and only after a very cursory check did I decide to go ahead and pick this one up. I was pleasantly surprised and glad I did. If I hadn't known that she was an Irish writer (that cursory check) I would have guessed she was American and probably Southern as well. Wicked sense of humor, and a really good storyteller to boot. The way Barclay describes the geographical locations enhances the story as it moves along at a fast but not guns a-blazing pace. Definitely not the typical FBI story here, and Ren is not the typical FBI agent, and the supporting cast of main and minor characters are charming, sometimes annoying, yet still believable. Oh, and there's a little twist at the end that you just don't see coming. 
Review by bsquaredinoz
16/06/2015
Ren Bryce is the female FBI Agent put in charge of the investigation into the death of fellow agent Jean Transom whose body is discovered on the snow-covered mountains of Colorado. The body is subsequently lost in an avalanche but the investigation continues with Bryce heading up a team of agents and local law enforcement professionals in the small town of Breckenridge. Without a body or any easily identifiable reason for the death they must dig into Transom's background to find out what led to her death.<br/><br/>I ordered myself a copy of this book after hearing it discussed on Simon Mayo's Books Panel late last year. I don't remember what it was that the reviewers said that made me rush to Book Depository and I've long since deleted the podcast episode from my iPod. So I don't now know what they saw in the book but, whatever it was, completely passed me by.<br/><br/>Ren Bryce is immature, unprofessional, paranoid, whiny and completely unbelievable as an agent. Towards the end of the book a vague hint is made as to what might have possessed her to be an alcoholic who sleeps with all the wrong people but by then I no longer cared enough about her to forgive any of her foibles. I don't know if I'd have felt differently had she been given a better background earlier in the piece. The rest of the characters, of which there are far too many given the scant attention paid to most of them, are two-dimensional, near-misogynist men who are equally unbelievable in the roles cast for them. <br/><br/>The story is not much better. It drones on for nearly 500 meandering pages almost entirely devoid of plot development (90% of which happens in the first 50 pages and the last 75). The rest are full of introspective, paranoid ramblings by the protagonist that are so annoyingly out of context that what story threads do exist are easily dropped. Although ostensibly it's about the death of the FBI agent there's another crime badly wedged into the book to make it even more disjointed and complex. Apparently Ms Barclay doesn't write chronologically and, frankly, it shows. <br/><br/>I can't decide if this was a valiant, if failed, attempt to take the genre somewhere new or just plain bad. All I know is I didn't like it. At all.