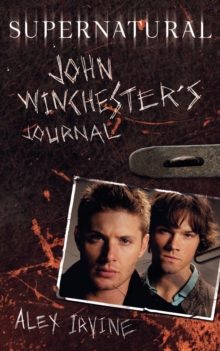 Supernatural : John Winchester's Journal
Hardback
Description
Twenty-three years ago, when Sam Winchester was a baby and his brother Dean just a toddler, they lost their mother to a mysterious and demonic supernatural force.
In the aftermath of the tragedy, the boys' father John raised his sons to be warriors, teaching them about the creatures that live in the dark corners and on the back roads of America ...and how to kill them.
Now Sam and Dean travel the country, ridding small towns and large cities of creatures that most people believe only exist in folklore, superstition, and nightmares.
Information
Format: Hardback
Pages: 224 pages, black & white illustrations
Publisher: HarperCollins Publishers Inc
Publication Date: 15/02/2009
Category: Science fiction
ISBN: 9780061706622
Other Formats
Paperback from £7.85
EPUB from £3.99
Free Home Delivery
on all orders
Pick up orders
from local bookshops
Reviews
Showing 1 - 5 of 5 reviews.
Review by regularguy5mb
16/06/2015
As tie-ins go, this one is very well done. If you're a fan of Supernatural and have always wondered what was in John Winchester's journal, here's your chance to find out.There was more exposition from John as he details his thoughts about losing Mary and taking care of the boys through the years, but it was nice. Another reviewer said the journal makes John come off as more of a jerk than he did on the show. I actually think it makes him seem like less of one. Even though he and Sammy were always at odds and arguing up until Sam leaves, John constantly checks up on him to make sure he's okay. That's something I never would have suspected from watching the show.The really interesting thing, for someone like me who is legitimately interested in the occult and the paranormal, is that the books John mentions in his journal are all real. While many writers create their own books within the framework of their fiction, Alex Irvine and the Supernatural showrunners have decided to keep at least partially grounded in reality as far as the literature referenced goes. Good for them.All-in-all, an enjoyable read for fans of the show or fans of paranormal fiction.
Review by rivkat
16/06/2015
Sloppy tie-in--John Winchester's not much of a writer, and there are fragments of mystical texts and lists of supernatural creatures interspersed throughout, along with his yearly ruminations on his anniversary, the boys' birthdays, and the date of Mary's death. Even with all the angst, I got no sense of his character, and I thought some of the information was inconsistent with what we've seen (e.g., John sending Dean on extended solo hunts before Sam left, which seems to contradict the Pilot; information in the journal that one would think Dean and Sam would have read long before they figured stuff out on the show). Oh well.
Review by avhacker
16/06/2015
eh i liked this at forst but then it was just the same thing on and on
Review by MeganAngela
16/06/2015
I received this book as a gift for my birthday a few years back from a relative who knows that I LOVE Supernatural. So it saddens me to have to say that this tie-in is, to be frank, pretty bad. I had high hopes for it. I mean, who wouldn't want to read all the knowledge and secrets written in Papa Winchester's journal?The journal is full of John's entries detailing hunts, special occasions with Sam and Dean, and remembrances of Mary. It is also chock full of his "notes" on all things supernatural and demonic. The problem with this journal is that the true focus is John's notes, which are extremely dry and boring to read. I found myself skipping over many of them and only read the ones that pertained to baddies from the show. Other entries are written in latin, so, in essence, they are unreadable for those who have no grasp of the language. The entries that relate to John's thoughts, feelings and experiences bring very little to his character or those of Sam and Dean. We don't really learn anything that we didn't already know. Instead, John comes across as more of a jerk than he does on the show.In the end, I was hoping for something that would really give us fans more insight into the characters, and even more background on their past. I was also hoping for folklore passages that weren't a chore to read through. This is just a tie-in journal for fans and not an actual resource after all. I can definitely see super fans of the show being willing to slog through the journal, but anyone who hasn't seen the show would probably not find anything redeeming about it. Two stars.
Review by shanaqui
16/06/2015
John Winchester's journal won't do much for you if you're not a fan of Supernatural, but if you are, it's an ultimate geeky resource. It contains all the bits we've seen from the journal in the show, at least up to 2009, and lots of little extra tidbits and stories about the young boys. We learn about the first time Sam walked -- took a few steps towards Dean and fell on his face -- and stuff like the fact that Sam is an evangelical Mac user, Dean's first solo hunt involved the ghosts of lesbian nuns, and what John did for their birthdays. You see a side of John that we didn't see so much in the show, and you have to wonder how much Sam was exaggerating the horrible way John raised them. You see the side of John that's a father, not a drill sergeant. Parts of the journal seem to be written, parts to the boys, and parts just record interesting hunting information. There are some nice little bits about how John sees his boys, including one really good bit about how when Sam sets his mind on something he won't change it, "you might as well wrestle angels".<br/><br/>Very fun. Not visually how I expected -- I expected it to be more like what we saw in the show, not a neat little book with typed pages, but I don't think it's meant to be a physical replica of John's diary. I'm not sure how canonical it is, and I haven't read it cover to cover, so there may well be bits missing. There aren't any replica newspaper clippings or anything 'tucked in' so it's possible some of the information from the series isn't in there. It's still interesting and if you like fanfiction, I think you could pull some nice details from it.<br/><br/>It makes reference to episodes (e.g. Something Wicked) and the comics (I know there's stuff from Rising Son) so beware of spoilers.