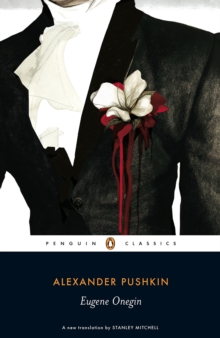 Description
Eugene Onegin is the master work of the poet whom Russians regard as the fountainhead of their literature.
Set in 1820s Russia, Pushkin's verse novel follows the fates of three men and three women.
Engaging, full of suspense, and varied in tone, it contains a large cast of characters and offers the reader many literary, philosophical, and autobiographical digressions, often in a highly satirical vein.
Eugene Onegin was Pushkin's own favourite work, and this new translation by Stanley Mitchell conveys the literal sense and the poetic music of the original.
Information
Format: Paperback
Pages: 304 pages
Publisher: Penguin Books Ltd
Publication Date: 04/09/2008
Category: Classic fiction (pre c 1945)
ISBN: 9780140448108
Other Formats
Paperback from £5.99
EPUB from £1.94
PDF from £2.54
Hardback from £11.99
Free Home Delivery
on all orders
Pick up orders
from local bookshops
Reviews
Showing 1 - 1 of 1 reviews.
Review by AlCracka
16/06/2015
Holy crap, this thing is good. It's amazing. And it's only around 200 pages, so it's not as much of a commitment as, y'know, those other Russian assholes who can't stop writing.<br/><br/>It's a "novel in verse," which means epic poem, wtf, in iambic tetrameter. It's organized in stanzas that are almost sonnets, but far enough off to kindof fuck with your head, or mine anyway. The scheme is abab, ccdd, effe, gg, so he's switching it up in each quatrain, which leaves me constantly off-balance. But in a good way! Tetrameter has a dangerous tendency to sound sing-songy to me, and this helps counterbalance that somehow.<br/><br/>It also makes a tough challenge for a translator, and for a long time Onegin was considered untranslatable. My boy Stanley Mitchell has done what feels like an admirable job; I'm sure if I knew Russian I'd say he brutalized the thing, but one takes what one can get and this version felt readable and elegant. He's no Mos Def, but he's pretty good with the rhymes.<br/><br/>The story ends abruptly at Chapter VIII; Pushkin had to do some last-minute rearranging, by which I mean burning most of a chapter that was critical of the government, which really throws the pace off there. The version I have includes some fragments after VIII - stuff that survived the flames for whatever reason - but it's really not enough to be more than a curiosity.<br/><br/>Tolstoy called this the major influence for Anna Karenina, and you can see it. He kinda took this story and said what if, at a crucial moment, things had gone differently? So if you read these two together it's basically like a really long Choose Your Own Adventure with only one choice. Rad!<br/><br/>And as an added bonus, Pushkin includes what I can only assume must be the most beautiful ode to foot fetishes ever written. It's five stanzas long, so that's 70 lines of foot fetishing. I almost wish I had a foot fetish so I could've really gotten into that bit.<br/><br/>Here's a stanza that's not about feet, so you can get a feel for how good this shit is:<br/><br/>Let me glance back. Farewell, you arbours<br/>Where, in the backwoods, I recall<br/>Days filled with indolence and ardours<br/>And dreaming of a pensive soul.<br/>And you, my youthful inspiration,<br/>Keep stirring my imagination,<br/>My heart's inertia vivify,<br/>More often to my corner fly.<br/>Let not a poet's soul be frozen,<br/>Made rough and hard, reduced to bone<br/>And finally be turned to stone<br/>In that benumbing world he goes in,<br/>In that intoxicating slough<br/>Where, friends, we bathe together now.<br/><br/>And if that doesn't kick your ass, you're no friend of mine.<br/><br/>Frankly, even if it does we're probably not friends. But we could be, if you want.