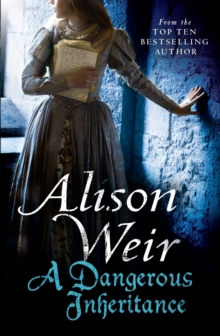 A Dangerous Inheritance
Hardback
Description
The year is 1562. Lady Catherine Grey, cousin of Elizabeth I, has just been arrested along with her husband Edward.
Their crime is to have secretly married and produced a child who might threaten the Queen's title.
Alone in her chamber at the Tower of London, Catherine hears ghostly voices, echoes, she thinks, of a crime committed in the same room where she is imprisoned.
The story flashes back to 1483 and another Catherine - Kate Plantaganet, bastard daughter of Richard III.
She has heard terrible rumours of the death of the young deposed Edward V and his brother (the Princes in the Tower) but loyalty to her father prevents her believing them.
After his death at Bosworth, she is viewed with suspicion by Henry VII's court, even more so when she becomes pregnant.
Catherine, too, is pregnant, a friendly warder having sneaked Edward into her room.
She finds documents relating to Kate's life and gets swept up both in Kate's story and the mystery of the Princes, which she realises Kate never solved.
Kate dies in childbirth and it is left to Catherine to discover the truth about the Princes.
Information
Format: Hardback
Pages: 528 pages
Publisher: Cornerstone
Publication Date: 21/06/2012
Category: Historical fiction
ISBN: 9780091926236
Free Home Delivery
on all orders
Pick up orders
from local bookshops
Reviews
Showing 1 - 3 of 3 reviews.
Review by tina1969
16/06/2015
England's Tower of London was the terrifying last stop for generations of English political prisoners. A Dangerous Inheritance weaves together the lives and fates of four of its youngest and most blameless: Lady Katherine Grey, Lady Jane's younger sister; Kate Plantagenet, an English princess who lived nearly a century before her; and Edward and Richard, the boy princes imprisoned by their ruthless uncle, Richard III, never to be heard from again. Across the years, these four young royals shared the same small rooms in their dark prison, as all four shared the unfortunate role of being perceived as threats to the reigning monarch.My Thoughts:This is the story of two Katherines, Lady Katherine Grey, sister to Lady Jane Grey and Katherine 'Kate' Plantagenet. Both of these ladies I knew nothing about so it was a refreshing change to read about someone different other than my beloved Henry VIII and his wives.The story flits between the two ladies and at times to be honest I had to stop and think which Katherine was I reading about. Katherine Plantaganet was called Kate in the story which did distinguish between the two. Both ladies had lives which were very similar although they lived years apart and to bind the two together they both had a interest in the 'Princes in the Tower'. Kate because her father Richard III was supposed to have had them killed and Katherine because she is intrigued with the mystery surrounding them. I did enjoy reading about Katherine Grey slightly more than Kate Plantagenet. This book is full of historical detail and with Alison Weir being an historian you can see why. It is a fascinating read that held my interest till the very end. It doesn't have the boddice ripping like some historical novels but it dosen't need it either. Books that are well written like this do bring history to life and it was a pleasure to read it. My only negative is that towards the end it did focus on the missing princes a little too much and it could have had the same effect and just as good if the story was slightly shorter but as I say it is only a small negative.Overall a really good historical read and I found it was clever how AW found two Katherines in history and combined there very similar lives together.
Review by jsamaha
16/06/2015
I have long been a fan of Alison Weir's non-fiction books on English history. So, when I saw that she was coming out with a novel set during the 15th and 16th centuries, I jumped on it! (Somehow, I'd missed that she has written other novels). I couldn't wait to start this novel was very happy to receive it as an ARC. Having been a fan of her non-fiction work, it took me a few chapters to adjust to her "fiction" writing style. It is much simpler than her non-fiction (my guess it to reach a wider audience). <br/><br/>I liked the beginning of A Dangerous Inheritance (once I adapted to her new writing style)...I abhorred the middle (too long and drawn out)...and I LOVED the end. It is actually the last one pages or so that lifted my rating of this novel from 3 stars to 4 stars. Alison did an amazing job at tying everything together in the last few chapters. So many authors don't seem to know how to end their novels and everything just gets thrown into a big pot of words...but the ending of this novel made it all worth it. In addition to the novel, there is an extra "chapter" that goes into the research and real life stories of the characters in Dangerous Inheritance. I found this very interesting. <br/><br/>I think if there is one thing (well, maybe two) negatives that I found for this particular novel it is that it was very confusing at times with the chapter switching between the two main protagonists. Yes, they went by different names (Katherine vs Kate) and yes, they lived in different time periods, but....they lived in the same area and although each protagonist had her own set of supporting characters, it was very frustrating since many of the names were the same, ie. Earl of Lincoln, Duke of Buckinghame, five billion different Elizabeths (well maybe that's a tiny exaggeration). Oh, and that second negative...it just seemed too long for what I was wanting and expecting...<br/><br/>All that being said, I definitely recommend A Dangerous Inheritance for any lovers of historical fiction.
Review by Cleoxcat
27/08/2015
Contrasting between two Katherines separated by about 100 years, their stories were told in such a way as to the keep mystery and suspense alive even though, historically, you know the outcome of both lives.