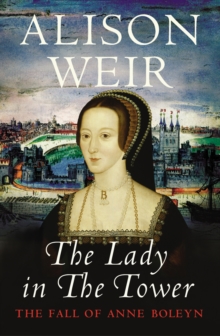 The Lady in the Tower : The Fall of Anne Boleyn
Hardback
Description
The imprisonment and execution of Queen Anne Boleyn, Henry VIII's second wife, in May 1536 was unprecedented in English history.
It was sensational in its day, and has exerted endless fascination over the minds of historians, novelists, dramatists, poets, artists and film-makers ever since.
Anne was imprisoned in the Tower of London on 2 May 1536, and tried and found guilty of high treason on 15 May.
Her supposed crimes included adultery with five men, one her own brother, and plotting the King's death.
Mystery surrounds the circumstances leading up to her arrest.
Was it Henry VIII who, estranged from Anne, instructed Master Secretary Thomas Cromwell to fabricate evidence to get rid of her so that he could marry Jane Seymour? Or did Cromwell, for reasons of his own, construct a case against Anne and her faction, and then present compelling evidence before the King? Or was Anne, in fact, guilty as charged? Never before has there been a book devoted entirely to Anne Boleyn's fall. Alison Weir has reassessed the evidence, demolished many romantic myths and popular misconceptions, and rewritten the story of Anne's fall, creating a richly researched and impressively detailed portrait of the dramatic last days of one of the most influential and important figures in English history.
Information
Format: Hardback
Pages: 432 pages, 16
Publisher: Vintage Publishing
Publication Date: 01/10/2009
ISBN: 9780224063197
Free Home Delivery
on all orders
Pick up orders
from local bookshops
Reviews
Showing 1 - 5 of 5 reviews.
Review by Kasthu
16/06/2015
The Lady in the Tower is the story Anne Boleyn—or, really, the story of her downfall, focusing specifically on the last four months of her life in 1536. It opens on the day of that now-famous joust, and continues through the executions of Anne and her supposed lovers, and gives a "what happened later" about some of the major players from one of the most infamous judicial trials of English history.It's a pretty solid book, in which Alison Weir examines closely the primary source material in order to draw her own conclusions about what happened. In my case, she's really preaching to the choir about Anne's innocence in the charges laid against her (as Weir says, her highest ambition was to become Queen, so why would she have several meaningless affairs, without anyone knowing, in a court where secrets weren't kept for long?). Although the story of Anne Boleyn has been told over and over again, in fiction and nonfiction books as well as film, Weir manages to make it interesting again. It's not quite as groundbreaking as Alison Weir claims, but it's excellent nonetheless.When I first started reading this book, I wondered how anyone could possibly write a 350-page book about such a short time period? That's where Weir's famous attention to detail comes into play: she really does examine the evidence thoroughly. People like Thomas Cromwell and Jane Seymour, as well as Anne's family, don't come off well in this book, but Henry VIII is treated rather compassionately, all things considered. I've always thought of Henry in the traditional, tyrannical sense, and Weir's spin on Henry's actions and reactions really made me think about things for a bit. For someone looking for a general biography of Anne Boleyn, they might be disappointed by this book; but otherwise it's an excellent, in-depth look at the last days of one of Europe's most famous queens.
Review by john257hopper
16/06/2015
The Lady in the Tower: The Fall of Anne BoleynThis is a well written and closely argued account of the last few months of the life of Anne Boleyn. The author agrees with the majority view that Anne was a victim of a miscarriage of justice and that there is little or no evidence to substantiate any of the charges laid against her. However, she does go to considerable lengths to analyse how Henry and contemporary society would have seen it, and thinks that Henry must himself have believed, or been able to plausibly convince himself, that the charges were or might be true, based on what he knew or believed to be traits in Anne's personality. I felt that Weir rather bent over backwards to make this point, but I was not convinced by her assertion of Henry's essential rationality. I think that Henry's reign was rather more like a modern totalitarian regime than a Medieval monarchy, and that the best comparison with the charges against and trial of Anne Boleyn is with Stalin's show trials. Like with the victims of those travesties, the charges were presented suddenly and starkly, designed to cause maximum shock in the light of the mores of the society in question and were partly backed by confessions obtained under duress; the evidence presented contained numerous factual discrepancies that would not have stood up in a court properly subject to the rule of law; and the judicial system and public opinion (to the extent that the concept existed in Tudor England) were softened for and overwhelmingly accepted the shocking outcome. To my mind, the worst that Anne might reasonably be accused of in relation to the subject matter of the charges is a certain reckless naivety and flirtatiousness beyond the then acceptable morality; but the notion of her risking adultery with anyone, let alone with five men including her brother; or of plotting to overthrow Henry is grotesquely unbelievable. The book brings across very clearly the shocking suddeness of Anne's fall in a very short period of time indeed, a feature of modern totalitarian regimes. 4.5/5
Review by vanessajw
16/06/2015
a detailed and expert journey of Anne's life and execution. Evidence suggests it was lead by Cromwell and she was framed, somewhat easily by her own dangerous talk. With the Tudor legal system giving the accused virtually no rights of defence, Anne was doomed from the start. Henry was not convinced initially and to his credit does ask for further evidence, on this and similar situations. But in the end the courtiers case is too strong. Hindsight shows she was probably framed unjustly, but that there might have been some truth in the charge of adultery. Modern medical study shows that beheading does not kill instantly, but allows a few seconds of time for the oxygen in the head to feed the brain before it dies. A gruesome thought...........
Review by Elysianfield
16/06/2015
The book focuses only in Anne's fall and execution. There's also different types of "ghost stories" about Anne.
Review by JEB5
16/06/2015
I love Alison Weir's books; she has the ability to turn history into a fascinating story and not just facts. She has a few new ideas and concepts that I hadn't read before about Anne Boleyn. This was yet another treasure to add to all her other books.