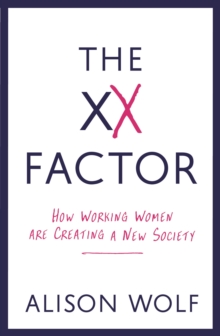 The XX Factor : How Working Women are Creating a New Society
Paperback
Description
For most of history, being female defined the limits of a woman's achievements.
But now, women are successful careerists equal to men.
In Norway, women legally must constitute a third of all boards; in America, women have gone from 3% of practising lawyers in 1970 to 40% today, and over half of all law students.
These changes are revolutionary - but not universal: the 'sisterhood' of working women is deeply divided.
Making enormous strides in the workplace are young, educated, full-time professionals who have put children on hold.
But for a second group of women this is unattainable: instead, they work part-time, earn less, are concentrated in heavily feminised occupations like cleaning and gain income and self-worth from having children young.
As these two groups move ever further apart, shared gender no longer automatically creates interests in common with other women.
The XX Factor lifts the curtain on these social, cultural and economic schisms.
Information
Format: Paperback
Pages: 464 pages
Publisher: Profile Books Ltd
Publication Date: 25/04/2013
Category: Gender studies: women
ISBN: 9781846684036
Free Home Delivery
on all orders
Pick up orders
from local bookshops
Reviews
Showing 1 - 1 of 1 reviews.
Review by nivek1385
27/08/2015
N.B. I received a free copy of this book through the First Reads program.<br/><br/>I found this to be quite interesting. A good many of the points brought up seem to make sense when you sit and think about them, but I hadn't thought about them prior to the book. I'm not sure if it is because I'm a male that I don't think of them, or if it is a generational thing, or if it is simply normal not to.<br/><br/>Being someone that has tried to move from one socioeconomic status level to another quite successfully, though not as successfully as I would have liked thus far, I can also identify with quite a few of the points made, either with myself, my family, my friends, or my former classmates and acquaintances.<br/><br/>The author has clearly done quite a bit of research into the matter and it shows with how dense the book is with the data (looking back, only ~250 pages are the book itself, with another ~200 pages of notes, appendices, and index).<br/><br/>I enjoyed this book, but there are two chief complaints that I have. First, with the shear volume of data, it would have been nice to have more time to process each tidbit before moving on to the next. While often times, adjoining tidbits were somewhat related, it felt like a research paper presentation being presented by a southern auctioneer. The second complaint is that she presents the data and draws her conclusions which is fine, but at the end it felt as if she should be pushing for a "solution" of some sort. Whether that means just educating people on the gap or coming up with a way to prevent or adjust the gap, I'm not sure. It just felt like there should have been an extra little push at the end that was missing.