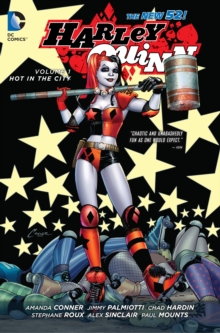 Harley Quinn : Hot in the City Volume 1
Hardback
Description
The sensational series that gave Harley Quinn her own New 52 spotlight is collected in hardcover for the first time, from the star-studded #0 issue to issue #8!
Don't miss Harley's big move to Coney Island as she becomes a roller derby queen - all while she carries on in her criminal career!
Information
Format: Hardback
Pages: 208 pages, chiefly illustrations
Publisher: DC Comics
Publication Date: 04/11/2014
Category: Superheroes
ISBN: 9781401248925
Free Home Delivery
on all orders
Pick up orders
from local bookshops
Reviews
Showing 1 - 5 of 7 reviews.
Previous | Next
Review by DanieXJ
16/06/2015
So with the Marvel Now numbering reboot I started reading Deadpool and found I actually liked it and its craziness. This title seemed like the DC equivalent sorta, but better. There was lots of breaking of the fourth wall, including the hilarious first issue in the TPB, where the creators (Amanda Conner and Jimmy Palmiotti) were talking to Harley in the comic, and each page was drawn by a different artist (I think) in a sort of artist try out gag.The story starts with Harley getting left a building on Coney Island. She moves in and her tenants are an interesting bunch for sure. She also has to find some jobs so that she can pay the taxes on the building. And at one she meets an old guy Sy, and they have some adventures. At the other job she gets on a Roller Derby team she has slightly fewer adventures with them in this TPB, but, with the card that the Captain gave her, I have no doubt that fun will abound in the future for Harley.Ivy also visits and there's some subtext (or is it main text? Either way that the reader sees them though, as friends or as more, the two characters as written in this TPB have awesome chemistry).It was a really fun TPB. A crazy, crazy good one.I got this advanced galley through Netgalley on behalf of DC Entertainment
Review by sweetiegherkin
27/08/2015
This book kicks off with Harley Quinn dreaming of having her own comic book, wondering who would draw her and in what style. The action picks up when a rudely-awaken Harley finds out that she's just been willed a large building in Coney Island by a former patient. She packs up all her belongings and heads out of Gotham City, eager to make new friends, get a day job, and join a roller derby team. Unfortunately, trouble has a way of constantly finding Harley and she is frequently skirting death (and bringing it) in her various adventures. Luckily, she has some help from her tenants, patients, and even some old pals on occasion.The dream sequence at the beginning of this book is a little odd but a lot of fun. Seeing all the different comic book illustration styles by a variety of guest illustrators is grand, and the authors climbing over the fourth wall to interact with their main character is excellent. The rest of the book is full of a lot of humor, albeit it darkly, as well. This is one book where I was actually laughing out loud on a number of occasions over the clever dialogue or the ridiculous situations that occurred. The humor surrounding so much violence may upset some, but I found it okay given that this book is not meant to be taken seriously on really any level.The illustrations are absolutely topnotch - three-dimensional realistic yet with hints of classic comic book flair rather than a total attempt for actuality, plus tons of fun details in the background of every panel and spread. Scattered references to the DC universe and other pop culture phenomenon litter the pages of this book throughout the dialogue and especially the illustrations. Hardcore comics fan might get even more out of these than I did, but they were certainly a lot of fun for me. I particularly enjoyed the numerous tongue-in-cheek references to old-time comic books, including Harley's penchant for exclamations of the "Jinkies!" and "Holy-moly!" variety (the latter being frequently reworked to fit the particular situation, e.g., "Ho-lee hurtlin' hooligans!" as a would-be assassin goes flying through the air). Harley as presented here is an intriguing and compelling character. She is a villain in that she has no issue with committing crimes when they suit her and little concern about taking lives. She also has a tendency to overreact with uncalled violence over small provocations and her actions are often misguided because she doesn't take the time to fully assess a situation. But she isn't without some kind of morality. She's deeply compassionate toward animals (especially those in kill shelters), fiercely loyal to her friends and lovers, and concerned about the elderly folks at her job who have no family to comfort them. She has recognizable moments, such as wondering how to pay her bills, and pitiable ones, including when she wanders sadly alone and lovelorn on Valentine's Day as she passes by couple after smooching couple. All in all, she makes for a fascinating character - you wouldn't want to meet her in real life, but she's sure interesting to read about!Overall, I was very impressed with this title, and I'm excited to get my hands on a copy of Volume 2 of this series as well as exploring some of the other books written by Conner and/or Palmotti.
Review by Rosa.Mill
27/01/2016
A funny book with fun artwork. (Although the roller derby league that plays on Coney Island is neither paid nor banked track and has way more safety rules.)
Review by Rosa.Mill
27/01/2016
A funny book with fun artwork. (Although the roller derby league that plays on Coney Island is neither paid nor banked track and has way more safety rules.)
Review by Rosa.Mill
27/01/2016
A funny book with fun artwork. (Although the roller derby league that plays on Coney Island is neither paid nor banked track and has way more safety rules.)