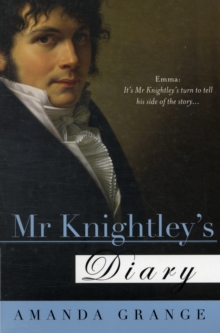 Mr Knightley's Diary
Paperback
Description
A retelling of Jane Austen's 'Emma' - from Mr Knightley's point of view.
In between managing his estate and visiting his brother in London, Mr Knightley is both exasperated and amused by his neighbour, Emma Woodhouse, whose misguided attempts to manage the affairs of the inhabitants of Highbury lead to disastrous results.
Information
Format: Paperback
Pages: 224 pages
Publisher: Sourcebooks, Inc
Publication Date: 16/02/2009
Category: Historical fiction
ISBN: 9781402218101
Free Home Delivery
on all orders
Pick up orders
from local bookshops
Reviews
Showing 1 - 1 of 1 reviews.
Review by AdonisGuilfoyle
16/06/2015
A delightful addition to Jane Austen's 'Emma'! Amanda Grange writes Austen's style and characters very well, remaining true to both, and her 'diary' series can either be enjoyed as introductions to the original novels, which Knightley's diary was for me, or as indulgent vignettes of favourite suitors! Whereas I read 'Colonel Brandon's Diary' purely to fill in the blanks about Austen's overlooked and underwritten 'second attachment' in 'Sense and Sensibility', 'Mr Knightley's Diary' has had quite the reverse effect - now I must find out more about Grange's reluctant romantic from Emma's point of view! (I have been shamefully slow to warm to Austen.) 'To a good man, yes, one who knows her in all her moods, who can laugh at her follies and rejoice in her virtues; who will not allow her to give in to her worst instincts; one who knows her, and who, knowing her, will still love her, and love her as she should be loved.'That Brandon and Knightley share the same qualities - goodness, patience, maturity - is probably why I admire Knightley so much without having read 'Emma', and can even overlook Austen's propensity for 'recycling' her novels! Amanda Grange's narrative reversal has also helped to prepare me for grating characters like Mr Woodhouse (manipulative hypochondriac), Miss Bates (Emma's remark might have been 'badly done', but you see her point), and even Mr Longridge (move on, man!) Still, Emma and Knightley's playful teasing, and that moment when the penny finally drops for both of them, will be worth waiting for. Thank you for the introduction, Miss Grange; pleased to meet you, Mr Knightley!