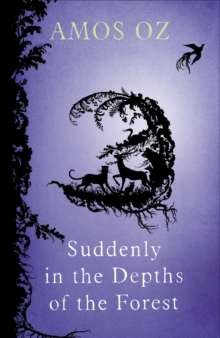 Suddenly In the Depths of the Forest
Hardback
Description
In a village far away, deep in a valley, all the animals and birds disappeared some years ago.
Only the rebellious young teacher and an old man talk about animals to the children, who have never seen such (mythical) creatures.
Otherwise there's a strange silence round the whole subject.
One wretched, little boy has dreams of animals, begins to whoop like an owl, is regarded as an outcast, and eventually disappears.
A stubborn, brave girl called Maya and her friend Matti, are drawn to explore in the woods round the village.
They know there are dangers beyond and that at night, Nehi the Mountain Demon comes down to the village.
In a far-off cave, they come upon the vanished boy, content and self-sufficient.
Eventually they find themselves in a beautiful garden paradise full of every kind of animal, bird and fish - the home of Nehi the Mountain Demon.
The Demon is a pied piper figure who stole the animals from the village.
He, too, was once a boy there, but he was different, mocked and reviled, treated as an outsider and outcast. This is his terrible revenge, one which has punished him too, by removing him from society and friendship, and every few years he draws another child or two to join him in his fortress Eden, where he has trained the sheep to lie down with the wolves, and where predators are few.
He lets the two children return to the village, telling them that one day, when people are less cruel and his desire for vengeance has crumbled, perhaps the animals might come back...
Information
Format: Hardback
Pages: 144 pages
Publisher: Vintage Publishing
Publication Date: 18/02/2010
ISBN: 9780701182274
Other Formats
Paperback from £8.59
EPUB from £7.99
Free Home Delivery
on all orders
Pick up orders
from local bookshops
Reviews
Showing 1 - 3 of 3 reviews.
Review by jewelknits
16/06/2015
This book is a middle reader, targeted for the 10-14 year old age group. A few spots may be a bit tricky for the youngest in this group, however, for the most part, it is written in clear, concise language perfect for middle readers.This is a sort of folk tale, about Maya, daughter of Lilia the Baker, and Matti, her best friend. They live in a cursed village where none of the children have ever seen animals ... not a bird, not a dog, not a fish, not a cat. Sometimes they can catch an adult saying "something" about them, but they quickly stop talking when they realize it. Emanuella the Teacher, who the village says is desperate for a husband and therefore a wee bit "off", teaches them about animals in school, but the other adults dismiss what she tells them.The children of the village are never allowed to go into the forest alone, and are never to go out at night, for fear the Nehi the Mountain Demon will snatch them up. After their schoolmate, Little Nimi, disappears for three weeks into the forest, when he comes back, he has whoopitis, and can only whoop. The villagers now call him Nimi the Owl.Maya and Matti have a secret, and one day, they go off to find answers to that secret. What they find may be the key to why their village is cursed.This is a rather haunting little tale with a great moral lesson on acceptance. I enjoyed it, and so did Bebe Boy James.QUOTES (from a galley-may be different in final copy):Nimi found fun in everything there was and in anything that happened.Maybe it's a good thing you feel that way. Maybe there really is an old craziness here in the village. And you'd be better off knowing nothing about it, Maya. Nothing. Because people who don't know can't be thought guilty. And they're likely not to catch it.And they train us not to be happy about what we have, but only about what we have that others don't.Writing: 4.5 out of 5 starsPlot: 4 out of 5 starsCharacters: 3.5 out of 5 starsReading Immersion: 4 out 5 starsBOOK RATING: 4 out of 5 stars
Review by A_Reader_of_Fictions
16/06/2015
Suddenly in the Depths of the Forest reads like a folk tale/fairy tale, and actually frequently reminded me of a number of other stories, although it never actually turned into any of them. At one point, there was a clear reference to Persephone, for example. I expected a bit more fairy tale than folk tale, I guess, so I was a bit surprised to find it without a neat ending tied up in a bow.<br/><br/>The story is well-written and clever. I love stories about animals, even in their absence. Can you imagine a town with nothing but people? Ugh! Of course, I wouldn't mind getting rid of, say, all the cockroaches. What do they do anyway? And, given that I'm petrified of bees, I wouldn't mind them being gone either, except for the flowers and the honey. But kittens and dogs and horses and goats and everything? And beef and chicken and pork?<br/><br/>What the story seems mostly to be about is not so much the absence of the animals, but the way people react to the lack. In some ways, this seems to be a study of human nature, of hubris and curiosity, of bravery and fear, of cruelty and friendship. Really, the story doesn't fit into a particular box and is told in a somewhat atypical manner. I enjoyed this brief tale, and think it conveys an interesting message, although I think it's up to the reader whether the message is positive or negative.
Review by sgcastellini
27/08/2015
It was an interesting, but short read. The format was unique. Dialogue was not separated or marked with quotations. I'm not sure if this was because it's a translated edition, I don't see why it would be. I'm also not sure what the author's purpose was in doing this. There was very little diaglogue though and it's from the viewpoint of children, so maybe just reinforcing the simplicity of the idea of the book. Read it and tell me what you think!