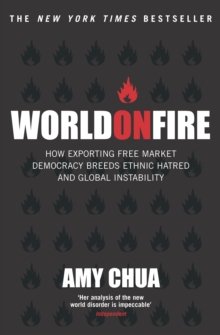 Description
Amy Chua's remarkable and provocative book explores the tensions of the post-Cold War globalising world.
As global markets open, ethnic conflict worsens and democracy in developing nations can turn ugly and violent.
Chua shows how free markets have concentrated disproportionate, often spectacular wealth in the hands of resented ethnic minorities - 'market-dominant minorities'.
Adding democracy to this volatile mix can unleash suppressed ethnic hatred and bring to power 'ethno-nationalist' governments that pursue aggressive policies of confiscation and revenge.
Chua also shows how individual countries may be viewed as market-dominant minorities, a fact that could help to explain the rising tide of anti-American sentiment around the world and the visceral hatred of Americans expressed in recent acts of terrorism.
Chua is not an anti-globalist. But in this must-read bestselling book she presciently warns that, far from making the world a better and safer place, democracy and capitalism - at least in the raw, unrestrained form in which they are currently being exported - are intensifying ethnic resentment and global violence, with potentially catastrophic results.
Information
Format: Paperback
Pages: 368 pages
Publisher: Cornerstone
Publication Date: 21/02/2004
Category: Globalization
ISBN: 9780099455042
Free Home Delivery
on all orders
Pick up orders
from local bookshops
Reviews
Showing 1 - 1 of 1 reviews.
Review by mrtall
16/06/2015
Amy Chua has identified a wedge issue that's been previously under-analysed, if not unnoticed, and has driven in that wedge about as far as it will go. The issue? The fact, that in so many countries, especially developing ones, small ethnic minority groups controls a large proportions of those countries' economies. Her keystone examples are the 'overseas Chinese' in the Philippines, Malaysia, Indonesia and other SE Asian countries, but she ranges around the globe in identifying analagous situations.This breadth is the strength of the book. Less satisfying are Chua's attempts -- or lack of them -- to explain why this pattern repeats itself over and over. For an academic, Chua writes clearly, although this book would have benefited from more stringent editing. It's repetitive, and the constant academic-style hedging in Chua's prose is irritating, and could easily have been remedied.Overall, recommended highly.