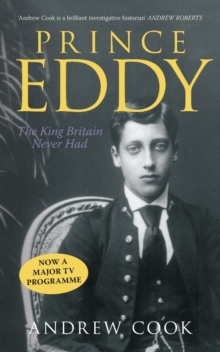 Prince Eddy : The King Britain Never Had
Paperback
Description
Prince Albert Victor, King Edward Vll's (r. 1901-10) first son and heir to the throne, and popularly known as Eddy, has virtually been airbrushed out of history.Eddy was as popular and charismatic a figure in his own time as Princess Diana a century later.
As in her case, his sudden death in 1892 resulted in public demonstrations of grief on a scale rarely seen at the time, and it was even rumoured (as in the case of Diana) that he was murdered to save him besmirching the monarchy.
Had he lived, he would have been crowned king in 1911, ushering in a profoundly different style of monarchy from that of his younger brother, who ultimately succeeded as the stodgy George V.
Eddy's life was virtually ignored by historians until the 1970s, when myths began to accumulate and his character somehow grew horns and a tail.
As a result, he is remembered today primarily as a suspect in the Jack the Ripper murders of 1888 and for his alleged involvement in the Cleveland Street homosexual scandal of 1889.But history has found Eddy guilty of crimes he did not commit. Now, for the first time, using modern forensic evidence combined with Eddy's previously unseen records, personal correspondence and photographs, Andrew Cook proves his innocence. "Prince Eddy" reveals the truth about a key royal figure, a man who would have made a fine king and changed the face of the British monarchy.This is the book of the hugely successful Channel 4 documentary that received one of the channel's highest viewing figures for a one-off historical show (3 million).
It is a radically new interpretation of a much maligned prince.
It reviews in the paperback review sections of national daily and Sunday newspapers to include "The Daily Mail" and "The Sunday Telegraph".
Hardback was serialised in "History Today".
Information
Format: Paperback
Pages: 320 pages, 34 illustrations
Publisher: The History Press Ltd
Publication Date: 01/02/2008
ISBN: 9780752445922
Free Home Delivery
on all orders
Pick up orders
from local bookshops
Reviews
Showing 1 - 1 of 1 reviews.
Review by JeffreyMarks
16/06/2015
The two most fascinating things about this otherwise forgettable prince were the rumors about him being Jack the Ripper and the Cleveland Street scandal. Granted, the Ripper story is a bit of a stretch and can be relatively easily disproved by the dates Eddy was out of town, but the author neglected to even cover the basic storyline, dismissing it out of hand. <br/><br/>The Cleveland Street scandal is a bit more problematic. There's no direct evidence, but Eddy did keep company with Stevens, Wilde and others. It's a more likely scenario. However, the author acts incredibly uncomfortable with the subject in general and positively cringes at the specifics. He barely mentions Stevens. His only mention of Bosie calls him a happily married man. <br/><br/>Overall, I got the impression that the author would have rather been writing about one of the other primaries in the book. Chapters about Eddy include large amounts of information on George, Bertie, and Alix, so much so that the reader sometimes forgets who is being profiled.