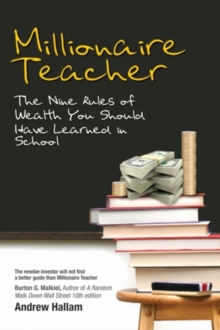 The Millionaire Teacher
Paperback
Description
The incredible story of how a schoolteacher built a million-dollar portfolio, and how you can too
Most people wouldn't expect a schoolteacher to amass a million-dollar investment account. But Andrew Hallam did so, long before the typical retirement age. And now, with Millionaire Teacher, he wants to show you how to follow in his footsteps. With lively humor and the simple clarity you'd expect from a gifted educator, Hallam demonstrates how average people can build wealth in the stock market by shunning the investment products peddled by most financial advisors and avoiding the get-rich-quicker products concocted by an ever widening, self-serving industry.
Using low cost index funds, coupled with a philosophy in line with the one that made Warren Buffett a multi-billionaire, Hallam guides readers to understand how the stock and bond markets really work, arming you with a psychological advantage for when markets fall. * Shows why young investors should hope for stock market crashes if they want to get rich * Explains how you can spend just 60 minutes a year on your investments, never open a financial paper, avoid investment news, and still leave most professional investors in the dust * Promotes a unique new investment methodology that combines low cost index funds and a Warren Buffett-esque investment philosophy
Millionaire Teacher explains how any middle-income individual can learn can learn the ABCs of personal finance and become a multi-millionaire, from a schoolteacher who has been there and done that.
Information
Format: Paperback
Pages: 208 pages, illustrations
Publisher: John Wiley and Sons Ltd
Publication Date: 11/11/2011
Category: History of the Americas
ISBN: 9780470830062
Free Home Delivery
on all orders
Pick up orders
from local bookshops
Reviews
Showing 1 - 1 of 1 reviews.
Review by Lilac_Lily01
27/08/2015
One of the best books on investing that I have read in a long time. The author helps to take the mystery out of investing and breaks it all down to one simple take home message: Invest your money in index funds( preferably through a non-profit company such as Vanguard). This book will also enlighten you about the fact that most investment "advisers" try to sell you products that make money for them and NOT for you. Index funds are rarely recommended by these advisers because they can't make any money with them. However, for Investors index funds have proven over time that they produce steady returns which is more reliable than picking individual stocks that can go up and down in no time. Highly recommended!