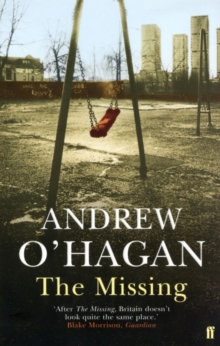 Description
In a brilliant merging of reportage, social history and memoir, Andrew O'Hagan clears a devastating path from the bygone Glasgow of the 1970s to the grim secrets of Gloucester in the mid 1990s.
One of the most original, moving and beautifully written non-fiction works of recent years, The Missing marked the acclaimed debut of one of Britain's most astute and important writers. 'He is a writer who looks myths and lazy thoughts and images clear in the face and scrubs them down to what he elegantly calls 'truthful inelegance'.
From the 'boiling contradictions' of his childhood this young writer has made a triumph in words.' Candia McWilliam, Independent on Sunday 'Andrew O'Hagan's The Missing, part autobiography, part old-fashioned pavement-pounding, marks the most auspicious debut by a British writer for some time.' Gordon Burn, Independent 'His synthesis of memoir and the meta-genre we have made of serial killing reverberates powerfully.
This is a story of an undeclared war of social anomie, in which we all have the potential for victimhood.
A timely corrective to the idea that nothing profound can be said about now.'Will Self, Observer, Books of the Year 'O'Hagan is an attractive guide on his pilgrimage of the missed and unmissed ...His vision of modern Britain has the quality of a poetic myth, with himself as Bunyan's questing Christian and the missing as Dantesque souls in limbo.' Blake Morrison, Guardian
Information
Format: Paperback
Pages: 288 pages
Publisher: Faber & Faber
Publication Date: 06/05/2004
Category: True crime
ISBN: 9780571215607
Free Home Delivery
on all orders
Pick up orders
from local bookshops
Reviews
Showing 1 - 2 of 2 reviews.
Review by meggyweg
16/06/2015
Part memoir, part social commentary, this book is about missing people in Great Britain. It's a bit dated because it was written before the internet came into widespread use, but much of what it says still applies. The book is not about specific cases so much as the phenomenon in general. O'Hagan, a journalist, interviewed runaways and homeless people in addition to law enforcement officials as part of his research. Much of what he says, especially about the people who die and are left undiscovered in their apartments for months, makes for very depressing reading. This book is well worth the time to look at and fostered greater awareness in myself, although I knew a great deal about missing people already.
Review by Quickpint
16/06/2015
A well-written, thoughtful book that is both frustrating and compelling in equal measure. It rubs up against some very important themes, making a number of prescient and rare observations as it does so, but nevertheless it is all over the place structurally. Its grasp, then, as per Browning's dictum, exceeds its reach, but there are far worse things that could be said of a book. Hopefully other authors will cover (or have covered) this vital but untrodden ground, similarly juxtaposing the strange and undefined relationship between the nature of absence and our proclivity to watch, record and celebrate every aspect of our banal existence. Somewhere in all this is something very revealing and important. Sadly, ironically, even inevitably, concrete conclusions are also missing here. Perhaps every age lacks the neutrality to look at itself with a naked eye.