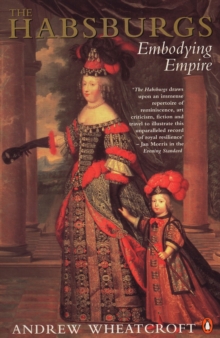 The Habsburgs : Embodying Empire
Paperback
Description
The Habsburgs have been described at one extreme as demons - responsible for a 'long history of atrocities'; and, at the other, as dodos - living fossils unable to adapt to the modern world.
In reality, the flamboyant royal family appear, in many ways, to have behaved much like most other monarchies.
Their story, however, is none the less enthralling for that.
It is populated by such unforgettable figures as mad Queen Juana, progressing through Spain with her husband's decaying body; the 'heroically fertile' Maria Theresa, and the quixotic Maximilian, 'Emperor' of Mexico.
Information
Format: Paperback
Pages: 432 pages, 16 b&w illustrations, maps, bibliography, index
Publisher: Penguin Books Ltd
Publication Date: 26/09/1996
Category: European history
ISBN: 9780140236347
Free Home Delivery
on all orders
Pick up orders
from local bookshops
Reviews
Showing 1 - 1 of 1 reviews.
Review by niklin
16/06/2015
This is actually not the history of the Habsburgs, the rulers of Austria, Spain, The Netherlands, and other chunks of the world. It is more a description in what various ways the Habsburgs tried to legitimize their rule over their vast territories and their claim to the title as Emperors of the Holy Roman Empire. The Habsburgs are usually seen as being conservative, aloof rulers that gained power over almost the whole of Europe by marriage, and then loosing it by being inept military leaders and poor organizers. In many ways this description is correct, although somewhat exaggerated (especially when it comes to being catastrophic military leaders, since Austria fought of the Ottomans in numerous wars). But what we tend to miss, is that this, for us, not so flattering image was deliberate, and part of a successful propaganda. By ridiculous claims of being the heir Charlemagne, Frederick Barbarossa, Roman emperors and various Biblical personalities, the Habsburgs created a notion that they had always ruled, even though their roots were as rather middle rank nobles. This propaganda was certainly reinforced by their sanguine and cool appearance to the masses that they are known for. Further, by building churches, cathedrals, monasteries, and sarcophagus for their dead, they created an image as the protectors of (catholic) Christianity, which was reinforced by fighting of heresy with the Inquisition and as being the bulwark against the Islamic Turks. But in what way would that be different of any other king or emperor? Well the Habsburgs ruled as collective. Most kings tried to legitimize themselves and their rule, but the Habsburg propaganda didn't stop there. They wanted to legitimize their whole linage, their whole family. They also reinforced this by a kind of morbid tendency of marrying relatives. In the long run this created problems in finding healthy male successors to the throne.Lost expectations can be such a drag. I was hoping to read a book about the Habsburgs as rulers, but instead found myself going threw pages after pages describing churches and monasteries into every miniscule detail. This has certainly influenced my outlook on this book, and thereby maybe giving it a lower score than it is worth. But at the same time, the background in general history the author gives is extremely sketchy, often not chronological, and at many times important historical events are not even mentioned. Thereby this book demands a lot from the reader. Also the numerous descriptions of churches, castles etc., could have been accompanied by more pictures of the same, if now that is such a central part of what the author tries to tell us. In many occasions the author cites in a rather lengthy manner other writers. This is sad, since Mr Weathcroft writes excellent himself, and the book would have been much more fluent if he himself chose the wording. It seems like a lost opportunity since parts of the book are excellent, interesting and perfectly written, and the history of the Habsburgs is certainly as interesting, funny, and at the same time horrifying as past times can be. Two out of five…