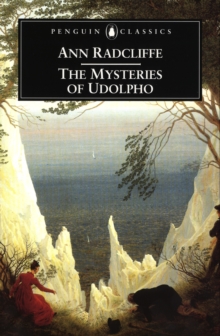 The Mysteries Of Udolpho,
Paperback
Description
With its insightful portrayals of her protagonist's inner life, Ann Radcliffe's The Mysteries of Udolpho was a hugely influential work of early Gothic horror.
This Penguin Classics edition is edited with an introduction and notes by Jacqueline Howard. Emily St Aubert lives with her loving, enlightened parents in exquisitely happy rural isolation.
But when she is tragically orphaned, the beautiful young woman is thrown on the mercy of her heartless aunt's sinister new husband.
The villainous Signor Montoni has designs upon his wife's fortune, and that of her niece, and imprisons them in the gloomy medieval castle Udolpho.
Separated from her beloved Valancourt, Emily must cope with torments of wild imaginings and terrors, as ghostly omens and attempts upon her virtue and life threaten to overwhelm her.
One of the most popular novels of its time, The Mysteries of Udolpho continues to grip readers with its vivid characters, its sublime Alpine settings and its dramatic sense of suspense and danger. In her introduction, Jacqueline Howard discusses the novel's huge success when it was first published, its place as a groundbreaking work of the Gothic genre, and Radcliffe's imaginative use of history, poetry, landscape and the supernatural.
This edition also includes further reading, a chronology, and notes. Ann Radcliffe (1764-1823) was the leading exponent of Gothic fiction.
During her lifetime she published five novels including A Sicilian Romance (1790), The Mysteries of Udolpho (1794) and The Italian (1797), as well as a collection of European travel writings.
Her novels were immensely popular, and much imitated.
If you enjoyed The Mysteries of Udolpho, you might like Edgar Allen Poe's The Fall of the House of Usher and Other Writings, also available in Penguin Classics.
Information
Format: Paperback
Pages: 704 pages
Publisher: Penguin Books Ltd
Publication Date: 26/04/2001
Category: Classic fiction (pre c 1945)
ISBN: 9780140437591
Other Formats
Paperback from £7.09
EPUB from £1.94
Hardback from £24.95
CD-Audio from £52.65
Free Home Delivery
on all orders
Pick up orders
from local bookshops
Reviews
Showing 1 - 5 of 5 reviews.
Review by keristars
16/06/2015
This is a very long and sometimes very boring book, but I think it's well worth reading - especially in a group setting! (because it's fun to complain about the long and boring bits with other people, or to laugh at how silly Emily is.) I think the Gothic novel genre is fascinating, and of course Radcliffe's <i>The Mysteries of Udolpho</i> is one of the earlier and more well-known examples.Fans of Austen, especially <i>Northanger Abbey</i>, will find that familiarity with <i>Udolpho</i> provides a greater richness to Austen's novels. But more than that, <i>Udolpho</i> gives insight to 18th century thought regarding Deism, Sensibility, Benevolence, patriarchy, feminism &amp;c &amp;c and it comments upon philosophy that came out of the Enlightenment, such as Rousseau's idea that man is naturally good (as compared to Locke's statement that man is naturally wicked).Beyond the academic worth, I still think <i>the Mysteries of Udolpho</i> is fantastic and it is something that I'm glad to have read and will likely find myself reading again in the future.
Review by pj77
16/06/2015
The Mysteries of Udolpho is a fantastic book for lovers of a great gothic romance. Austen's reference to The Mysteries of Udolpho in Northanger Abbey was intriguing and led me to Radcliffe's work. Her writing is full of beautiful landscape descriptions and her character development in the first half of the novel captivates you. It is a long novel, but it keeps you in suspense until the very end and takes you on a rollercoaster ride throughout the last 100 -150 pages! The romance, gothic castles, horror, intrigue and mystery are everything you could wish for in a novel of this genre. It is a really great read and I recommend it to all.
Review by CollectorOfAshes
16/06/2015
Being my first read of the First Lady of Gothic fiction, I can say that I'm a bit underwhelmed. The story has some occasionally excellent descriptions, lots of emotion, and generally moody atmosphere. However, often the descriptions are generic (must every single sea view have sails?) and the characters so overwrought that either they're fainting or they're failing to communicate, and because of this lack of communication, many trials and sorrows result. There's also a lot of deus-ex-machina going on which leaches away the gothic atmosphere. Must everything be of human origin that at first seems supernatural? Radcliffe seems to think so. However, with all that said, I learned a few new words and the story had enough complexity and emotion to propel me towards its close. Strangely, there's also quite a bit of profane oaths which generally reflect the syncrenistic view of Christianity the author possesses -- that is, having a form of godliness but denying its true power, and that is most disappointing of all.
Review by marcelrochester
16/06/2015
Emily's a bitch. I liked Du Pont & was disappointed we didn't find out his fate. The mysteries' being solved was on the anticlimactic side.
Review by breakerfallen
16/06/2015
A very, very long gothic novel with sonnets and other verse thrown in at random moments.I probably would not have finished the book had it not played such a large part in the Austen cannon. The major plot line is a great one, but it suffers from many "and at the same time, [character] was doing..." that are unnecessary. A thick red pen through half of the pages would greatly improve it, but I obviously have "modern" tastes.Worth a read, or a skim, if you are interested in gothic literature and the history of the novel.