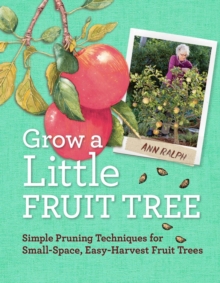 Grow a Little Fruit Tree
Paperback
Description
Grow your own apples, figs, plums, cherries, pears, apricots, and peaches in even the smallest backyard! Ann Ralph shows you how to cultivate small yet abundant fruit trees using a variety of specialized pruning techniques. With dozens of simple and effective strategies for keeping an ordinary fruit tree from growing too large, you'll keep your gardening duties manageable while at the same time reaping a bountiful harvest. These little fruit trees are easy to maintain and make a lovely addition to any home landscape.
Information
Format: Paperback
Pages: 176 pages, full colour photographs throughout
Publisher: Storey Publishing LLC
Publication Date: 04/12/2014
Category: Gardening: growing fruit & vegetables
ISBN: 9781612120546
Free Home Delivery
on all orders
Pick up orders
from local bookshops
Reviews
Showing 1 - 1 of 1 reviews.
Review by bassocantor
16/06/2015
v A Revolutionary Vision for Backyard Fruit Trees<br/><br/>This is a delightful book that offers a TON of useful information on growing and pruning fruit trees. You can tell, right off the bat, that this is going to be a fun, creative book. To start with, even the Table of Contents is designed around gardening! Each major section is labeled with a plant marker. Note the detail--even the plant markers are decorated with little sketches of garden life. There are many more well-crafted illustrations throughout the book. They really add to the total theme of the book.<br/><br/>The author explains that she learned this technique from a nursery in Modesto, California; however, she was reluctant to practice the severe pruning required. Later, she saw the results of such a pruning, and she became a believer. The goal: Keep your fruit tree just 6 feet tall. By doing this, the tree is far more manageable, and you will obtain an excellent harvest--not a mediocre harvest with a lot on the ground.<br/><br/>The reader is treated to an anatomical discussion of what comprises a fruit tree, so that you can understand more about the process. In Chapter Two, we are formally introduced to the "Short Fruit Tree Method." There are detailed sections explaining rootstocks, how to graft, and suggested planting methods.<br/><br/>Chapter Three is all about pruning--and while you're at it, "Don't forget to thin your fruit!" Ann explains why this is important, even though it seems so harsh to remove immature fruit. Chapter Four explains how to choose the specific variety of fruit tree for your yard. Don't miss the little sidebar on "Trees of Antiquity in Backyard Gardens."<br/><br/>In wrapping up, the author summarizes with her "Four Basic Pruning Rules"<br/>1)If you don't know what to do, cut some stuff out.<br/>2)Prune to keep the "Zone of Equilibrium" within reach.<br/>3)Make Aesthetic decisions.<br/>4)Pruners learn by pruning.<br/><br/>I can see that I'm going to have to study that "Zone of Equilibrium" a bit more. Following the last chapter, there is a "Brief Glossary" of terms used. But that's not all--next comes a list of rootstocks, with a discussion of pros and cons of each type. The book concludes with a brief section of other books to read.<br/><br/>v This is LOTS more to this bountiful discussion on growing small fruit trees--mulching techniques, pest control, composting, fertilizing, etc. There is even an entire chapter on how to tell when the fruit is ripe. If you are a gardener interesting in fruit trees (and keeping them manageable) this is the book for you! Highly Recommend!<br/>