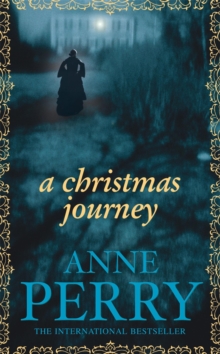 A Christmas Journey (Christmas Novella 1)
Paperback
Description
Attending the party and taking a leading role in the ensuing investigation is one of the most beloved characters from Anne Perry's Thomas Pitt series: Lady Vespasia Cumming-Gould. Lady Vespasia's friend Isobel has made a cruel remark about Gwendolen Kilmuir on the night Gwendolen was meant to have become engaged to the eligible Bertie Rosythe.
Gwendolen flees the room, and the next morning her body is found in the lake in the gardens of the estate.
It appears she has jumped from the bridge. The host, Omegus Jones and Vespasia decide to find who or what might have led Gwendolen to resort to such an extreme measure.
They vow to make the guilty party seek forgiveness and expiation through the task of taking a sealed letter written by Gwendolen before her death to her mother up in the north of Scotland.
The journey will be both physically and emotionally arduous but will bring answers to some unexpected and profound questions.
Information
Format: Paperback
Pages: 160 pages
Publisher: Headline Publishing Group
Publication Date: 01/11/2004
Category: Crime & mystery
ISBN: 9780755321155
Free Home Delivery
on all orders
Pick up orders
from local bookshops
Reviews
Showing 1 - 3 of 3 reviews.
Review by blackjacket
16/06/2015
I read this purely to experience something "outside my comfort zone", that is, a genre or author I would not usually find appealing or interesting. Anne Perry is well known as a writer of Victorian era crime novels - certainly not my genre of reading choice. And, ever since 2003, she has released one of these little Victorian "Christmas" novels every year. Again, not my natural choice of reading, if only because I have always regarded such slender seasonal offerings as little more than clever marketing exercises foisted upon writers by their publishers.Having said all that, this novella was quite enjoyable. Although the Christmas message of forgiveness reads a bit like an afterthought tacked onto the end (indeed, it is not really integral to the story, nor to the actions and motives of the characters), the story is enough to keep the reader interested for 124 pages.Despite my reservations about these Christmas story enterprises by publishers, this book is nonetheless well written. Clearly Anne Perry has a keen interest in the social strictures of mid Victorian Britain and this is reflected in her detailed attention to the language and gestures of her characters. She communicates effectively the serious social consequences that could ensue from a mere few thoughtless words expressed in polite company. Whether this accurately reflects the reality of Victorian manners and mores is a matter fro scholars to comment on. For me, it seemed authentic enough, certainly quite alien from 21st century society . And the narration of the two main characters' arduous journey through a Scottish winter on horseback was vividly rendered.At the very least, this book would make me consider reading one of Anne Perry's substantive crime fictions.
Review by KateBaxter
16/06/2015
It is a cold December weekend at Applecross, the English country estate of Omegus Jones. His guests are dressed in their finery and have gathered for dinner. A cruel remark by one guest is made of another - a young widow just beginning to socialize again, who appeared to be destined for a marriage proposal over the weekend.But alas, the next morning, the young widow's body is pulled from the estate's lake - apparent suicide. Isobel Alvie, was perceived to have driven widow, Gwendolen Kilmuir, to her death with her jealous and cutting remark. She is offered the opportunity to attone for her indiscretion and must take to Gwendolen's mother, the last letter written to her by her distraught daughter. In kindness and friendship, Lady Vespasia Cumming-Gould accompanies Isobel on the harrowing journey into the far reaches of Scotland - a journey of expiation.This is a short mystery novella and a rather quick read.
Review by bookwoman247
16/06/2015
Guests have been invited to spend a holiday weekend at Applecross, an English country estate.When a young woman is apparently driven to suicide by the cruel remarks of another guest, thoughts of celebration quickly turn to thoughts of justice, forgiveness, and atonement.As a group, the remaining guests decide that the young lady that they hold responsible for playing a part in the other's suicide must undertake a perilous journey into the brutal winter of the Scottish Highlands, in order to find the dead young lady's mother, and to explain her role in her death.It always gives me a lot of pleasure to read Anne Perry's Chrismas books this time of year, even though the themes are often dark and difficult.