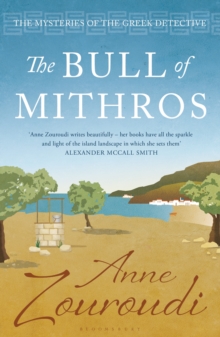 The Bull of Mithros
Paperback
Description
It is summer, and as tourists, drawn by the legend of a priceless missing artifact, disembark on the sun-drenched quay of Mithros, the languid calm of the island is broken by the unorthodox arrival of a stranger who has been thrown overboard in the bay.
Lacking money or identification, he is forced for a while to remain on Mithros.
But is he truly a stranger? To some, his face seems familiar. The arrival of the investigator Hermes Diaktoros, intrigued himself by the island's fabled bull, coincides with a violent and mysterious death.
This violence has an echo in Mithros's recent past: in a brutal unsolved crime committed several years before, which, although apparently forgotten may not yet have been forgiven.
As Hermes sets about solving the complex puzzle of who is guilty and who is innocent, he discovers a web of secrets and unspoken loyalties, and it soon becomes clear that the bull of Mithros may only be the least of the island's shadowy mysteries.
Information
Format: Paperback
Pages: 320 pages
Publisher: Bloomsbury Publishing PLC
Publication Date: 07/06/2012
Category: Crime & mystery
ISBN: 9781408819388
Free Home Delivery
on all orders
Pick up orders
from local bookshops
Reviews
Showing 1 - 2 of 2 reviews.
Review by riverwillow
16/06/2015
I'm a huge fan of this series depicting a Greece that the tourists rarely get to experience. Hermes Diaktoros is an investigator empowered by the 'Authorities' to mete out justice. But, despite certain similarities in their shape and concern about their mode of dress, Diaktoros is no Hercule Poirot, as his justice is one that invariably doesn't involve the police and the courts but is more poetic in form, rewarding the good and punishing the transgressors – as I've said before he reminds more of Christie's mysterious invention Harley Quinn, who also brings a strange and wild justice to those he encounters.Its summer and the island is teeming with tourists but they hardly figure as the locals try to find out just who the stranger, thrown overboard from a boat, is. He seems familiar and may be connected to a violent robbery committed some years previously, or he may not. This is another intriguing mystery and one that takes Diaktoros on an interesting journey as he untangles the relationships and loyalties on the small island of Mithros. Wonderful.
Review by viktoriaofbavaria
16/06/2015
Wieder entführt uns Anne Zouroudi ins ferne Griechenland, diesmal zur heißesten Jahreszeit, und wieder gelingt es ihr, die weltabgeschiedene Atmosphäre auf einer der griechischen Inseln meisterhaft darzustellen. Ihr Ermittler, Hermes Diaktoros, bewährt sich erneut bei der Lösung eines verwickelten Kriminalfalls. Ganz Mithros steht unter dem Einfluss von Vassilis Eliadis, der von den Einwohnern als großer Menschenfreund angesehen wird, da er großzügige Darlehen gewährt. Tatsächlich geraten dadurch zahlreiche Personen in Abhängigkeit von ihm, was geradezu mafia-ähnliche Verhältnisse verursacht. Ein geheimnisvoller Fremder wird von seiner Schiffsbesatzung über Bord geworfen und strandet auf Mithros. Sein Erscheinen führt zu einiger Unruhe auf der Insel. Schließlich geschieht ein Mord. Natürlich entschlüsselt Hermes Diaktoros nach und nach die Zusammenhänge, die weit in die Vergangenheit zurück reichen, und das komplexe Beziehungsgeflecht, in das zahlreiche Personen verwickelt sind. Es gelingt ihm, den Verbleib eines geheimnisvollen, verschollenen Kunstgegenstandes nachzuvollziehen, des Stiers von Mithros. Dabei handelte es sich um eine kleine minoische Statue von unschätzbarem Wert, die auf Mithros entdeckt worden sein soll und die den touristischen Erfolg der Insel begründet hatte. Hermes Diaktoros bleibt sich in jeder Hinsicht treu: Den Freuden des Lebens zugewandt, begegnet er Menschen – und Tieren – mit großer Zuvorkommenheit. Seine vordringliche Aufgabe scheint jedoch darin zu bestehen, stets die Menschen mit ihren Verfehlungen zu konfrontieren und sie dem gerechten Ausgleich für ihre Taten zuzuführen. In "The Bull of Mithros" hat er dazu viel Gelegenheit, da sich in dieser Erzählung sehr viele Menschen etwas zu schulden kommen lassen. Anne Zouroudi hat sich viel Mühe gegeben, einen besonders komplizierten Kriminalfall zu konstruieren, was ihr sehr gut gelungen ist. Auch wirkt alles, was sie schreibt, sehr glaubwürdig. In diesem Roman kommen zahlreiche Tiere vor. Der Umgang vieler Menschen, die Tiere nur als Nutzobjekt betrachten, wird kritisch beleuchtet. Dies ist der Autorin hoch anzurechnen und für sie offenbar ein wichtiges Anliegen. So wird der Leser gleich zu Beginn mit einer Szene konfrontiert, die den weit verbreiteten grausamen Umgang mit Tieren darstellt, was durchaus schockiert. Auch die Art und Weise, wie die Verfasserin das Mordopfer zu Tode kommen lässt, ist selbst für abgebrühte Krimi-Leser schwer erträglich. "The Bull of Mithros" ist also nichts für schwache Nerven. So gekonnt das Buch auch gemacht ist, nutzt sich der Diaktoros-Effekt nach der Lektüre des sechsten Griechenland-Krimis doch etwas ab. Hermes Diaktoros handelt immer nach dem gleichen Verhaltensmuster. Als Leser wünscht man sich, Anne Zouroudi erfände eine neue Krimi-Idee, was ihr garantiert sehr gut gelänge. Natürlich, ohne dabei Hermes Diaktoros Schlechtes zu wünschen. Ansonsten ist dieses Buch, wie die fünf Vorgänger-Bände, ausgezeichnete Unterhaltung.