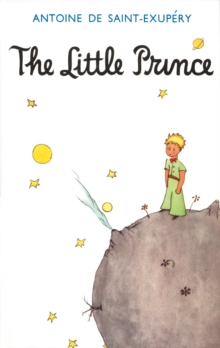 The Little Prince
Paperback
Description
A beautifully bound gift edition of this touching and wise classic book for children.
A pilot stranded in the desert awakes one morning to see, standing before him, the most extraordinary little fellow. "Please," asks the stranger, "draw me a sheep." And the pilot realizes that when life's events are too difficult to understand, there is no choice but to succumb to their mysteries.
He pulls out pencil and paper ...Thus begins this wise and enchanting fable that, in teaching the secret of what is really important in life, has changed the world forever for its readers.
Often seen as a symbol of childhood innocence, Antoine de Saint-Exupery's best-selling book The Little Prince is cherished by children and adults alike across the globe.
Information
Format: Paperback
Pages: 96 pages, colour illustrations
Publisher: Egmont UK Ltd
Publication Date: 10/01/1991
Category: Classic
ISBN: 9780749707231
Free Home Delivery
on all orders
Pick up orders
from local bookshops
Reviews
Showing 1 - 5 of 11 reviews.
Previous | Next
Review by msburton
16/06/2015
I fell in love with the Katherine Woods translation and read it several times. I wore out my copy and bought the new translation by Howard. From the first page, I could tell the difference. I didn't get far before stopping. It's nothing close to the original. And I'm 26, so it's not like I'm bitter over the evolution of language. Howard's "Translator's Note" in the front is a vomitous attempt to justify a new translation:"The translator, it is seen in the fullness of time, so rarely ventures in this fashion, but rather falls back, as I say. It is the peculiar privilege of the next translator, in his own day and age, to sally forth, to be inordinate instead of placating or merely plausible. Time reveals all translation to be paraphrase, and it is in the longing for a standard version of a "beloved" work that we must begin again, we translators--that we must overtake one another."Give me a break. It was clear to me after reading this that Howard was more into himself than the book. "All translation is paraphrase"? His argument is that English changes, and therefore so should this translation of the original French. Weak argument. Just because it's a translation doesn't mean the English is any more dated than Dickens, Fitzgerald, Salinger, Bronte...and nobody has tried to "update" the English in their classics.
Review by centime
16/06/2015
This little book did more to teach me about The Way Things Are than nearly any book I've read since - and I read it in school 34 years ago.
Review by wendyrey
16/06/2015
Nope sorry don't get it. It's just a simple children's' story, what's all the fuss about?
Review by the1butterfly
16/06/2015
Astounding. He really gets it. This book is so magical and amazing that I really can't write some sort of brilliant analysis, so I must leave you with some random verbs. Surpassing. There are no other books quite like this, and it must be read by everyone- it is beautiful, wise, and sad.
Review by Tropic_of_Cancer
16/06/2015
One of the first books I read and one of the best ones, as well. :)
Also by Antoine De Saint-Exupery | View all