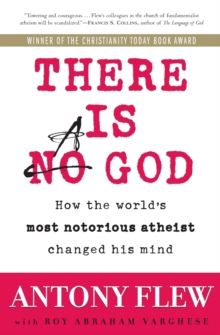 There is a God : How the World's Most Notorious Atheist Changed His Mind
Paperback
Description
A wave of modern atheists have taken center stage and brought the long-standing debate about the existence of God back into the headlines.
Spearheaded by Richard Dawkins, Sam Harris, and Christopher Hitchens, this 'new atheism' has found a powerful place in today's culture wars.
Although this movement has been billed as 'new,' the foundation of its argument is indebted to philosopher Antony Flew and his groundbreaking paper "Theology and Falsification," the most widely reprinted philosophical publication of the last five decades.
Flew built his highly acclaimed academic career publicly debunking the existence of God.
But, now the renowned philosopher has arrived at the opposite conclusion and officially joined the other side.With refreshing openness to argument and an absence of the anger and hostility that have been hallmarks of the 'new atheism,' Flew shows how his commitment to following the argument wherever it leads resulted, to his own astonishment, in his conversion to belief in a creator God.
Certain to be read and discussed for years to come, "There Is a God" will forever change the debate about the existence of God.
Information
Format: Paperback
Pages: 256 pages, black & white illustrations
Publisher: HarperCollins Publishers Inc
Publication Date: 15/11/2008
Category: Nature & existence of God
ISBN: 9780061335303
Free Home Delivery
on all orders
Pick up orders
from local bookshops
Reviews
Showing 1 - 1 of 1 reviews.
Review by madcurrin
16/06/2015
If any book could change my mind ... it won't be this one. The prose is so dense in places I found myself skim reading, which meant I lost the thread of the author's arguments, and by the end didn't really care about it at all. Here's a classic passage. Try to read it without your eyes glazing over."The nerve of the distinction between the movings involved in an action and the motions that constitute necessitated behavior is that the latter behavior is physically necessitated, wheras the sense, the direction, and the character of actions as such are that, as a matter of logic, they necessarily cannot be physically necessitated (and as a matter of brute fact, they are not)."Huh?In fact, the best reason to get hold of this book is for the appendix at the back in which New Testament scholar N.T. Wright answers the following questions: 1) What grounds are there for claiming, from the texts, that Jesus is God Incarnate? and 2) What evidence is there for the resurrection of Christ?N.T. Wright's answers to these questions provide a neat and tidy summary of his general theological position, for which I happen to have a great deal of respect. So instead of wading through his books you could start right here. It is Wright who challenges me the most and I'd recommend this appendix for believers and non-believers alike.