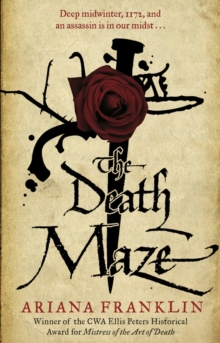 The Death Maze : Mistress of the Art of Death
Paperback
Description
Twelfth-century anatomist, Adelia Aguilar must once again examine the dead as gruesome events are beginning to unfold...Henry II's favourite mistress, Rosamund Clifford, has been poisoned - and, rumour says, by his jealous wife, Eleanor of Aquitaine.
If Henry believes the stories, England will be torn apart as King battles Queen.
In a race against time to prove Eleanor's innocence, and with a dangerous assassin on the loose, Adelia has never faced greater danger.
The armies that might cause civil war lie behind her.
The icy winds of a dreadful winter blow around her. And ahead she must brave the thorns of the impenetrable labyrinth that surrounds Fair Rosamund's tower, and decipher the mystery of the dead woman who lies frozen within.
Information
Format: Paperback
Pages: 448 pages
Publisher: Transworld Publishers Ltd
Publication Date: 09/04/2009
ISBN: 9780553818017
Free Home Delivery
on all orders
Pick up orders
from local bookshops
Reviews
Showing 1 - 1 of 1 reviews.
Review by passion4reading
16/06/2015
Set during the reign of Henry II, we are introduced to Adelia Aguilar, a doctor and anatomist from Sicily but now living in the fenlands of Cambridgeshire with her baby daughter, assistant Mansur, friend Gyltha and her dog. Called on by the local bishop to help investigate the suspected poisoning of Henry's favourite mistress, Rosamund Clifford, she journeys to Oxfordshire, where Rosamund's body lies in a tower surrounded by an intricate maze. With queen Eleanor being blamed for her rival's death, Adelia and her friends have to work hard to prevent the start of another civil war.Starting with the first few sentences, the author conjures up the lives and customs of the middle ages, with the characterizations so extraordinary and believable that they jump off the page, from the main protagonists down to the minor players, she is able to imbue even a dog, a baby and a corpse with personalities. The descriptions of the wintry countryside, Wormhold Tower and its surrounding maze, as well Godstow convent cut off by snow, are wonderful and extremely vivid, I could feel the bitter cold creeping into my bones as I read. Devoured in just over 48 hours, this is a well-researched and clever historical whodunnit, and even though the identity of the assassin's client was not too difficult to guess, the name of the assassin himself came as a total surprise. The choice of protagonist is highly unusual, and the author comments on a lot of social issues pertinent to that time through the mouths of her characters. With the evocative prose bordering on the lyrical at times, the author nevertheless displays an extraordinary lightness of touch that is compelling and an utter joy to read. Even if the first chapter of the preceding book, Mistress of the Art of Death, hadn't been included, I would have sought out the first and any subsequent titles of the series just on the strength of this book alone. Thoroughly recommended.
Also in the Adelia Aguilar series | View all