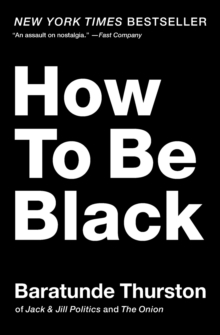 How to be Black
Paperback
Description
Raised by a pro-black, Pan-Afrikan single mother during the crack years of 1980s Washington, DC, and educated at Sidwell Friends School and Harvard University, Baratunde Thurston has over thirty years' experience being black.
Now, through stories of his politically inspired Nigerian name, the heroics of his hippie mother, the murder of his drug-abusing father, and other revelatory black details, he shares with readers of all colors his wisdom and expertise in how to be black.
Beyond memoir, this guidebook offers practical advice on everything from "How to Be The Black Friend" to "How to Be The (Next) Black President" to "How to Celebrate Black History Month".
To provide additional perspective, Baratunde assembled an award-winning Black Panel-three black women, three black men, and one white man (Christian Lander of "Stuff White People Like") - and asked them such revealing questions as: When did you first realize you were black?
How black are you? Can you swim? The result is a humorous, intelligent, and audacious guide that challenges and satirizes the so-called experts, purists, and racists who purport to speak for all black people. With honest storytelling and biting wit, Baratunde plots a path not just to blackness, but one open to anyone interested in simply how to be.
Information
Format: Paperback
Pages: 272 pages, black & white illustrations
Publisher: HarperCollins Publishers Inc
Publication Date: 15/11/2012
Category: Humour
ISBN: 9780062003225
Free Home Delivery
on all orders
Pick up orders
from local bookshops
Reviews
Showing 1 - 5 of 6 reviews.
Previous | Next
Review by Ellesee
16/06/2015
Comedian and writer Baratunde Thurston uses humor and his real-life experiences to walk the reader through his thoughts on being black, but mostly human, in a "post-racial" (hahaha) America. I can relate to many of his chapters, particularly "How to be a Black Friend" and "How to Speak for All Black People"--not because I'm black, but when I lived in Japan, I could easily have substituted the word "gaijin" for "black" and it would have worked the same. It's a lie to say we "don't see color" because we do. In Japan, I was white and foreign. In America, we have descendants of African slaves who are black, and people who migrated from the south and over the ocean who are brown. We cannot deny that these differences are there--but the beauty is is that these differences make us uniquely ourselves. I would not be me without being white, just like Baratunde would not be Baratunde without being black. (I know it isn't quite that simple, but there is a core truth to this--it's kind of a Zen thing that is hard for me to explain.) One thing has been evident to me both prior to, and especially after, reading this piece: race in America is still something we need to understand and discuss. Not a national discussion necessarily, but personal, heartfelt discussions that try to not tokenize differences, but really see them for what they are--yet at the same time, recognized the vast range of diversity within each racial group. In the end, we are all human, yes, but we come from different places and with different sets of privileges, obstacles and expectations. Understanding and acceptance seem in short supply these days with so much hate-mongering around. It's enough to make people pull out their hair with righteous rage. Fortunately, Thurston presents his ideas positively and with grace--but not so they can be ignored, but so that we might listen and learn.I appreciate this book for its honesty and humor. I can only wish we could all speak with such forthrightness.
Review by snash
16/06/2015
As the author states, in order to address issues of race only humor allows us to talk. Besides pointing out to white, black, and other audiences the ways racial prejudice sneaks into our view of the world, the book also makes some good suggestions on how we might begin to move beyond it. I found the book to be thought provoking and, oh yes, funny
Review by delphica
16/06/2015
It's not quite four stars, but I am feeling generous because this was a very welcome, brisk read after slogging through a couple of long novels recently.It's very funny, of course (there was an Excel joke that had me snorting like a warthog), and smart. Thurston writes about his personal experience as a black man in America and uses it to illustrate points about some current issues related to race. He does an admirable job of outlining things that have happened to him personally and connecting them to larger cultural themes while underscoring the point that there is no universal black experience. A lot of the humor works the best, I suspect, for people are already at least somewhat familiar with social justice culture, which would include most people his age or younger who attended a liberal arts college, or anyone who gets why articles in the Onion about race are funny. By the end, I did have a twinge of "okay, now what?"I would also like to know how much time he has spent examining his own privilege (see what I did there? it's the kind of book that leads to social justice jokes), which is apparently the ability to NEVER SLEEP, because I was exhausted reading about the time he went to Harvard and became actively involved with a hundred and seventy eight different organizations, taking on leadership roles in each, or then graduated and worked at six hundred jobs. Is there anything this man isn't involved in? A blog he doesn't read? A political discourse he isn't engaged in? It made me wish he had included a section in the book specifically aimed at normal people. A lot of the time, I feel like I'm having a good day if I work through lunch to finish a budget report so I can leave the office on time to pick up the baby from the sitter and then cram dinner into everyone while keeping the laundry train moving. Tips for when and how to be contributing to the progress of society would be greatly appreciated.
Review by vtlucania
16/06/2015
I did not like this book. I found it offensive and it is hard to offend me. why do you need to know how to be black? I do not have a trove of positive things to say about this one so i will simply stop.
Review by annbury
16/06/2015
A good book. At first I thought it would be mostly comedy and satire, but the author is serious about growing up black and the racism that exists in this country and doing something about it. Well written and the parts about the Angry Negro, How to be the Black Friend and the Black Employee are terrific.
Also by Baratunde Thurston