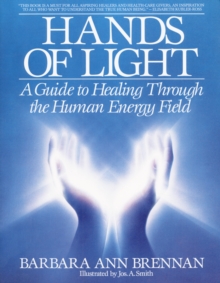 Hands of Light : Guide to Healing Through the Human Energy Field
Paperback
Description
With the clarity of a physicist and the compassion of a gifted healer with more than twenty years of professional experience observing 5,000 clients and students, Barbara Ann Brennan presents the first in-depth study of the human energy field for people who seek happiness and health, and who wish to achieve their full potential.
Our physical bodies exist within a larger 'body' , a human energy field or aura, which is the vehicle through which we create our experience or reality, including health and illness.
It is through this energy field that we have the power to heal ourselves.This energy body - only recently verified by scientists, but long known to healers and mystics - is the starting point of an illness.
Here, our most powerful and profound human interactions take place, the precursor and healer of all physiological and emotional disturbances. Hands of Light offers: * a new paradigm for the human in health, relationships and disease * an understanding of how the human energy field looks and functions * training in the ability to see and intpret auras * medically verified case studies of healing people from all walks of life with a variety of illnesses * guidelines for healing the self and others
Information
Format: Paperback
Pages: 320 pages, Ill.(some col.).
Publisher: Transworld Publishers Ltd
Publication Date: 01/02/1990
Category: Psychic powers & psychic phenomena
ISBN: 9780553345391
Free Home Delivery
on all orders
Pick up orders
from local bookshops
Reviews
Showing 1 - 2 of 2 reviews.
Review by mckait
16/06/2015
There is no better book on healing. Barbara Ann Brennan is the best. This book explains how energy healing works and why you can do it. I have read this book many times. Each time I read, I learn something more. I have been a Reiki master for years now, and the more I practice, the more I understand, and the more I realize that Brennan has it exactly right. Recommended for not only energy healers, Light workers but those who work as Physical Therapists, Occupational Therapists and other medical services. The therapists that I work with have raved about this book and how it has helped them in their work.
Review by Astridestella
16/06/2015
'HANDS OF LIGHT' by Barbara BrennanI discovered this book purely by chance, I was at the book shop looking for something else and it was almost as if it was presented to me. It was in the entirely wrong section and sticking out from the shelf and I feel placed there quite deliberately and knowing the way spirit work, I would say yes it was. I have always been able to see auras, though I can switch this ability on and off at will and it was always difficult for me to explain what I could see, but here was a book where the author documented what I could see too. It explains clearly about healing and explains the "Human Energy Field" i.e. The Aura and its several layers. It explains healing first begins with the spirit and not on the physical plane a misconception by many would be healers and those seeking healing. It is a must for anyone to understand the concept of "Healing" MPB
Also by Barbara Ann Brennan