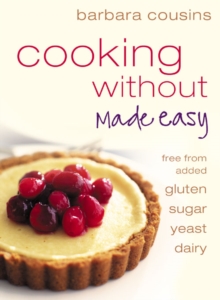 Cooking Without Made Easy : All Recipes Free from Added Gluten, Sugar, Yeast and Dairy Produce
Paperback
Description
This is the third book in the 'Cooking Without' collection written by nutritional therapist Barbara Cousins.
This series of cook books has been an enormous success.
They have been recommended by nutritional therapists all over the world and have transformed the lives of thousands of people.
In 'Cooking Without Made Easy' Barbara offers ultra-simple new recipes all of which are free from gluten, dairy, sugar and yeast.
They include lots of one-pot meals, and cakes and cookies also rely on the all-in-one method for simplicity. In this book Barbara summarises the effect that 'Cooking Without' can have on people's lives.
Barbara tells her own story and includes lots of client case histories to inspire you.
They help one to realise the extent to which dietary measures can improve not only our physical health but our mental and emotional states too.
Other Formats
Paperback from £10.99
EPUB from £6.99
Free Home Delivery
on all orders
Pick up orders
from local bookshops
Reviews
Showing 1 - 1 of 1 reviews.
Review by cherrybob_omb
16/06/2015
'Without what?' I hear you ask. I think the answer may be 'without common sense'.<br/><br/>Why, why, why, do cookbook authors always feel the need to include recipes for fruit salad? IT'S JUST CUT UP FRUIT.<br/><br/>Also: pureed, frozen fruit is not icecream. I don't think it's sorbet either. It's just pureed, frozen fruit. <br/><br/>This book is supposed to be about cooking without "added" (umm everything is "added" when cooking) gluten, sugar, yeast and dairy. And yet, the author doesn't realise that there is a butt-load of sugar in fruit, and that eating sugar isn't particularly healthy in a country full of diabetics. Or that many people are fructose intolerant. Or that many people with dairy allergies are also allergic to soy, so soy milk/ yoghurt are really not a valid alternative to dairy a lot of the time.<br/><br/>Yet another recipe book that calls what would other be meal/ snack suggestions, recipes. I already know that meat and vegetable based meals don't need to include gluten or dairy, and can also swap cow's milk for soy milk, so I should probably write a recipe book myself.