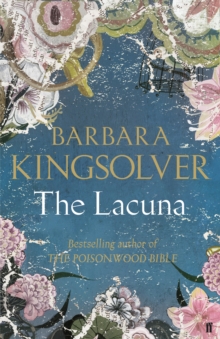 The Lacuna : A Novel
Hardback
Description
"The Lacuna" is the heartbreaking story of a man's search for safety of a man torn between the warm heart of Mexico and the cold embrace of 1950s McCarthyite America.
Born in the U.S. and reared in Mexico, Harrison Shepherd is a liability to his social-climbing flapper mother, Salome.
Making himself useful in the household of the famed Mexican artists Diego Rivera and Frida Kahlo, and exiled Bolshevik leader Lev Trotsky, young Shepherd inadvertently casts his lot with art and revolution.
A violent upheaval sends him north to a nation newly caught up in World War II.
In the mountain city of Asheville, North Carolina he remakes himself in America's hopeful image.
But political winds continue to throw him between north and south, in a plot that turns many times on the unspeakable breach - the lacuna - between truth and public presumption.
This is a gripping story of identity, loyalty and the devastating power of accusations to destroy innocent people. "The Lacuna" is as deep and rich as the "New World".
Information
Format: Hardback
Pages: 528 pages
Publisher: Faber & Faber
Publication Date: 05/11/2009
ISBN: 9780571252633
Free Home Delivery
on all orders
Pick up orders
from local bookshops
Reviews
Showing 1 - 4 of 4 reviews.
Review by karynwhite
16/06/2015
The best book I have read this year. Absorbing plot - a good mix of fact and fiction. Interesting characters - again a good mix of real people and fictional characters. A book I will be buying others for Xmas. It was the kind of book I wanted to finish to see what happened, but at the same time did not want it to end.
Review by cajela
16/06/2015
A story of a life nestled in the chinks of 20th century US and Mexican history; it's about art, and freedom, and repression, and revolutions, and the untold tales that live at the heart of a story. Daily life in the shadow of great events.Harrison Shepherd grows up in the 1930s in Mexico city and briefly in Washington DC where his father sends him to school. He's an observer, keeping quiet and writing in his notebooks, working as a cook or a secretary. Along the way he works for Diego Rivera, Frida Kahlo and Leon Trotsky; moves to the US in world war 2; becomes a writer; and is caught up in the fever of McCarthyism.Kingsolver is a lovely writer. All her places and people are rich in detail and individuality. She also likes to use different voices; here she writes as the boy, the man, the secretary Violet Brown, and the newspapers.
Review by lesleynicol
16/06/2015
Yes, I enjoyed this book, it held my interest right to the end.Not as good as her previous book "the Poisonwood Bible" though It was outstanding.
Review by daisyq
16/06/2015
I did really enjoy the first half of this, when it was set in Mexico and the narrator was working for Diego Rivera, Frida Kahlo, and Trotsky. <br/>However, I struggled to remain interested after that, when the narrator ends up in the US. He isn't really a strong character, and at that point, he isn't hanging out with particularly strong characters either.