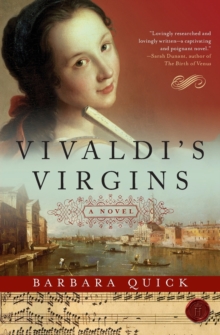 Vivaldi's Virgins : A Novel
Paperback
Description
Fourteen-year-old Anna Maria, abandoned at the Ospedale della Pieta as an infant, is determined to find out who she is and where she came from.
Her quest takes her beyond the cloister walls into the complex tapestry of Venetian society, from the impoverished alleyways of the Jewish Ghetto to a masked ball in the company of a king; from the passionate communal life of adolescent girls competing for their maestro's favor to the larger-than-life world of music and spectacle that kept the citizens of a dying republic in thrall.
In this world, where for fully half the year the entire city is masked and cloaked in the anonymity of Carnival, nothing is as it appears to be.
Information
Format: Paperback
Pages: 304 pages, black & white illustrations
Publisher: HarperCollins Publishers Inc
Publication Date: 03/07/2008
ISBN: 9780060890537
Free Home Delivery
on all orders
Pick up orders
from local bookshops
Reviews
Showing 1 - 3 of 3 reviews.
Review by kiwifortyniner
16/06/2015
I love Vivaldi's music "the Four seasons" but I know nothing of the life of the man. The main character of the book Anna Maria dal Violin is a real person - a gifted musician of the time and this is her story. With this book I do not want to give away too much of the story for those who may be enticed to read it. But a little ---- Anna Maria was abandoned as an infant and became one of the elite musicians living in the foundling home where Vivaldi "the red priest" was maestro and composer. Anna has no idea who her mother is and the book is held together with letters that she writes to her mother (sister Laura suggested she did this) hoping that she will receive them and that one day she will find out who she is. The great thing about reading is that it can take you into a completely different world and evoke the atmosphere of the time and place and I enjoyed the book for this very reason.
Review by Cariola
16/06/2015
[Note to self: Avoid any book written by an author who wears a flower in her hair in the cover photo.]The comparison to <i>Girl with a Pearl Earring</i> is greatly exaggerated! I was disappointed in this book--too much adolescent angst, too little Vivaldi and Venice. I also found the writing style rather precious, and device of the letters to a nonexistent mother just didn't work for me. Maybe it gets better, but I gave up on it halfway through.
Review by jumpingjacks
16/06/2015
Better story than The Four Seasons - 'feels' more historically accurate, intriguing without romantising too much. The story of Anna Maria dal Violin's life at the Pieta, home for abondonned girls who contribute to the up0keepof the institution by honing extraordinary musical skills. Vivaldi composes for them and they remain cloistered which adds mystery and allure.