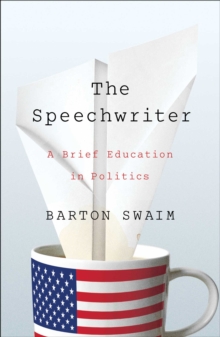 The Speechwriter : A Brief Education in Politics
Hardback
Description
An intimate and hilarious look inside the spin room of the modern politician: a place where ideals are crushed, English is mangled, people are humiliated, and the opportunity for humour is everywhere.
Everyone knows this kind of politician: a charismatic maverick who goes up against the system and its ways, but thinks he doesn't have to live by the rules.
Through his own experience as the speechwriter for a controversial governor, Barton Swaim tells the story of a band of believers who attach themselves to this sort of ambitious narcissist-and what happens when it all comes crashing down.
The Speechwriteris a funny and candid introduction to the world of politics, where press statements are purposefully nonsensical, grammatical errors are intentional, and better copy means more words.
Swaim paints a portrait of a man so principled he'd rather sweat than use state money to pay for air conditioning, so oblivious he'd wear the same stained shirt for two weeks, so egotistical he'd belittle his staffers to make himself feel better, and so self-absorbed he never once apologized to his staff for making his administration the laughing stock of the country. On the surface, this is the story of one politician's rise and fall.
But in the end, it's a story about us-the very real people who want to believe in our leaders and must learn to survive with broken hearts.
Information
Format: Hardback
Pages: 224 pages
Publisher: Simon & Schuster
Publication Date: 08/10/2015
Category: Biography: general
ISBN: 9781476769929
Free Home Delivery
on all orders
Pick up orders
from local bookshops
Reviews
Showing 1 - 3 of 3 reviews.
Review by DavidWineberg
27/08/2015
Sanford and CompanyThe Speechwriter reads like a sitcom. Our hero is a sensible, rational being, in the midst of mad caricatures of people, with ways of doing things that are hilarious if you don't work in that office. Running rings around everyone is The Governor, badly dressed, totally self-absorbed and uncaring, who some have learned to ignore, some have learned to accept, and our hero, to cope with. The trials of working for an inconsistent, unsatisfiable boss make for a number of cute episodes, as long as you can pretend it wasn't all true.Mark Sanford self-destructed as governor by lying that he was hiking in Appalachia when he was instead humping in Argentina. That he has come back, running unopposed, to a seat in Congress is sad, not so much because he was shamed, but because of the shameful way he ran his people and the state.Barton Swaim was his speechwriter. He is hypersensitive to words and speech. He chooses them carefully, notes all their potential nuances warily, and reels at the failings of ordinary conversation and speech. It makes for a different sort of tell-all memoir. He has a fascinating take on letters to the editor. He divides them by category, cliché and purpose. He explains the basis for their printing and their complete pointlessness. He waxes eloquently on the art of saying nothing in sufficient words to make a letter, usually a thank you letter, unhelpful but impressive. His own writing is of course clear and concise, and his story is heartfelt and sensitive. You feel badly that he must ignore all his own knowledge and talent, and write trash for delivery to audiences the governor considers ignorant. The overall impression is of a mad governor surrounding himself with a bunch of mid twenties, unsavvy young men and women whose guidance and advice explain the awful state of government.David Wineberg
Review by annbury
10/11/2015
Not bad but not great either. There is nothing in the book itself to indicate that the author worked for Mark Sanford, governor of South Carolina, and leading light of the tea party until his fateful misstep of taking a trip to Argentina to see his mistress. There is a pretty good analysis at the end of the book on politicians in general; the motto is: don't trust them.
Review by Susan.Macura
27/01/2016
Swaim was a political speechwriter for former South Carolina Governor Mark Sanford, infamous for his "hike on the Appalachian Trail" for several days when in fact he was in Argentina with his mistress. This is a great tale of how a naïve young man came to work for a man who at one time was considered a presidential contender but through his own acts destroyed his future and his family. Sanford is portrayed as a controlling narcissist who was never happy much of anything and treated his staff very poorly. This is a great behind the scenes look at the type of people we elect to office.
Also by Barton Swaim