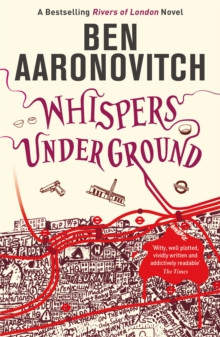 Whispers Under Ground : The Third PC Grant Mystery
Paperback
Part of the PC Grant series
Description
Doctor Who Screenwriter Ben Aaronovitch's superbly entertaining supernatural crime series has, with its witty one-liners and wonderfully erudite take on London, won a legion of fans in double quick time. Peter Grant is learning magic fast. And it's just as well - he's already had run-ins with the deadly supernatural children of the Thames and a terrifying killer in Soho.
Progression in the Police Force is less easy. Especially when you work in a department of two. A department that doesn't even officially exist. A department that if you did describe it to most people would get you laughed at. And then there's his love life. The last person he fell for ended up seriously dead.
It wasn't his fault, but still. Now something horrible is happening in the labyrinth of tunnels that make up the tube system that honeycombs the ancient foundations of London. And delays on the Northern line is the very least of it.
Time to call in the Met's Economic and Specialist Crime Unit 9, aka 'The Folly'.
Time to call in PC Peter Grant, Britain's Last Wizard.
Information
Format: Paperback
Pages: 432 pages
Publisher: Orion Publishing Co
Publication Date: 01/10/2012
Category: Fantasy
ISBN: 9780575097667
Free Home Delivery
on all orders
Pick up orders
from local bookshops
Reviews
Showing 1 - 4 of 4 reviews.
Review by AHS-Wolfy
16/06/2015
Detective Inspector Stephanopoulos thinks there's something a little off about the death of an American senator's son and requests assistance from the Folly and so Constable (and apprentice wizard) Peter Grant once again swings into action. Finding magical trace elements (vestigia) on the murder weapon Peter is than conscripted into part of the murder investigation team which is once again being lead by Detective Chief Inspector Seawoll. As the murder took place in the London Underground we get to meet another potential recurring character in the shape of Jaget Kumar who is a sergeant in the British Transport Police. We later learn that he seems to handle all the <i>weird stuff</i> for his particular department. Also assigned to the case as an observer is Special Agent Kimberley Reynolds of the FBI. Seawoll doesn't want anything unusual to get back to the Americans so warns Peter that he should be on his best behaviour or else...This is another excellent addition to this urban fantasy/police procedural series and now that we've reached the third instalment, the characters are more relaxed and their interactions flow more easily. It's great that Lesley makes more of an appearance in this one as the dynamic between her and Peter is excellent. Although technically still on indefinite medical leave she does take more of an active role in the murder case and also receiving tutelage under the auspices of Nightingale then this bodes well for even greater future involvement. As well as this self-contained murder mystery there is also the over-arching plot of the Little Crocodiles as there are a couple of potential leads to follow up on that score too although there really isn't any great advancement in this plot strand it still creates a feeling of continuation for the series as a whole. Not a place to start the series but for those who've read and enjoyed the first two then this is a no-brainer to pick up and it's good to know the next book is not too far away from release.
Review by BobH1
16/06/2015
Ben Aaronovitch just keeps getting better. An addictive tour de force of imagination and humour
Review by foolplustime
16/06/2015
I was a bit wary of reading this one. I loved the first in the series - Rivers of London - but the second book just didn't do it for me. Happily, this book was a return to form and I really enjoyed it.The good: We're back to London being as much a character as the actual characters.Lesley May is back - harrumble!It's funny.It feels solidly built on its own backstory.The bad:I could really, really, *really* live without a scene about a third of the way in (the early morning one at the Folly). It's the kind of irritating, out-of-place, pseudo-humour which is so very damaging to women's social emancipation. I didn't read this for the who-dunnit, but if I had I'd opine the reveal was weak; probably not enjoyable for those who like to solve the crime first.There are parts which serve the greater story arc stretching across several books. These felt veeeerrrrry creaky.But, anyway. I enjoyed this (and actually went and read a different book part way through because I didn't want to get through this one too quickly) and will definitely be picking up the next in the series.
Review by reading_fox
16/06/2015
Yet another badly blurbed book in this series. Don't believe anything on the back cover, it completely fails to convey the plot at all. Fun though. Peter puts the deaths in the last book behind him, and continues to do some proper policing - with Leslie's assistance. Even though she's still on medical leave, she has become part of the Arrangement - much to some parties dislike. Meanwhile of course he's continuing his own experiments with magic to Nightingales' annoyance, and a much more furtive investigation into the Faceless Man and the cadre of trained magicians who don't have sanction from the Folly. Most of the story though is pure police procedural as a body is found on a Underground platform with little evidence as to how it came to be there. Peter teams up with a member of the British Transport Police (who certainly wouldn't have been caving on Dartmoor, that being granite rather than the limestone Mendips the author might have been thinking of). Explorations lead them into even more unexpected waters than Peter imagined, and the Sisters aren't that impressed either.Develops many of the leads created in Moon - with space for plenty of future books. I do hope Ben will be careful in the continuity throughout the series, and not just forget some of the ideas raised.