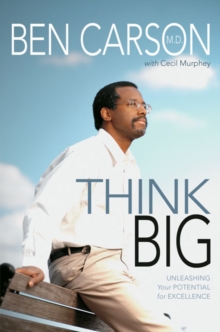 Think Big : Unleashing Your Potential for Excellence
Paperback
Description
This book is for you if your life is a series of shattered dreams.
This book is for you if you have no dreams at all. It's for you if you've bought the lie that you'll never amount to anything.
That's not true. Your life is BIG-far bigger than you've imagined. Inside these pages lie the keys to recognizing the full potential of your life.
You won't necessarily become a millionaire (though you might), but you will attain a life that is rewarding, significant, and more fruitful than you ever thought possible.
The author of this book knows about hardship. Ben Carson grew up in inner-city Detroit. His mother was illiterate. His father had left the family. His grade-school classmates considered Ben stupid. He struggled with a violent temper. In every respect, Ben's harsh circumstances seemed only to point to a harsher future and a bad end.
But that's not what happened. By applying the principles in this book, Ben rose from his tough life to one of amazing accomplishments and international renown.
He learned that he had potential, he learned how to unleash it, and he did.
You can too. Put the principles in this book in motion. Things won't change overnight, but they will change. You can transform your life into one you'll love, bigger than you've ever dreamed.
Information
Format: Paperback
Pages: 272 pages
Publisher: Zondervan
Publication Date: 07/12/2005
Category: Popular psychology
ISBN: 9780310269007
Free Home Delivery
on all orders
Pick up orders
from local bookshops
Reviews
Showing 1 - 1 of 1 reviews.
Review by walkingtowardwisdom
16/06/2015
Dr. Ben Carson is an extremely well accomplished neurosurgeon at Johns Hopkins Hospital in Baltimore, Maryland. He grew up in Detroit with his brother, the two of them sons of a single mom. As his story begins, Dr. Carson acknowledges that in his youth he did poorly in school, but through the help of his mother and other kind souls, he was able to become the man and professional he is today. Think Big is more than an autobiography, it's a book about achievement. If you don't know how to succeed or know if you're headed in the right direction, Think Big helps puts your doubts to rest.Most striking and infectious is Dr. Carson's regard for books. He believes, as experience has shown him, that through books, one's imagination sparks and one's ability to relate others soars. The book is like a catalyst for change. In my own reading, I was inspired to re-evaluate my interests. Through Dr. Carson's writings about the significance of in-depth learning, he illustrates how an enthusiasm for medicine (not a drive for one-upmanship) led him to fulfillment and success. As a professional, I understand the significance of keeping up with trends or as a hobbiest, with keeping up with the toys of my trade. Yet something different happens when we make the decision to immerse ourselves in a subject. Whether it be in accounting, literature, stamp collecting, or volleyball, your mind and attitude are different when you approach them with more than just a cursory reading or more than a "just enough to do my job" sort of attitude. Think Big is part biography, part advice, part medicine, and it is excellent preparatory reading for college-bound seniors and undergraduate pre-meds. Yet, it is also part drama and entirely true, which makes it fair reading for any person young or older who wishes to learn about passion, learning, and determination from someone who has experienced it all.