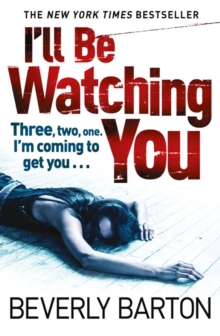 I'll Be Watching You
Paperback
Description
With the suspense of Karen Rose, and the sensual thrills of Sylvia Day, this is an addictive story of forbidden love and cold-blooded revenge. "Not for the faint-hearted' CLOSER Ella, sweet Ella, you were meant to be mine.
You can't begin to imagine all the things I want to do to you.
When the time is right, I will come for you ...A series of hand-delivered letters leaves Ella scared for her life.
Someone is watching her. Wanting her. Someone promising revenge. Desperate for the nightmare to end, Ella will do anything to discover the truth.
Even join forces with a man who comes with his own danger warning ...
Information
Format: Paperback
Pages: 400 pages
Publisher: HarperCollins Publishers
Publication Date: 01/10/2014
Category: Crime & mystery
ISBN: 9781847561411
Free Home Delivery
on all orders
Pick up orders
from local bookshops
Reviews
Showing 1 - 5 of 7 reviews.
Previous | Next
Review by atticusfinch1048
16/06/2015
I'll Be Watching You – Brilliantly TwistedI'll Be Watching You by Beverley Barton is the first time I have read any of her crime fiction and after this outing I shall be reading more from her pen. Avon Books puts a handy content guide on the back of their books and on this they said it contained; terror, thrills, drama, law and order. Well it delivers on all levels with a wonderful twist at the end which I can honestly say I did not see that coming. This really is a story of forbidden love tied in to murders to hide a murderer and the opportunity for revenge.Reed Conway has been locked up for fifteen years for a murder he claims never to have committed and on his release nothing will stop his search for the truth while avoiding getting in to trouble so the folks of Spring Creek, Alabama otherwise he would be returned back to prison. There are plenty of people in Spring Creek who would happily see him returned to prison including Senator Webb Porter who wants to protect his daughter Ella and his disabled wife Carolyn and his family circle who are old Alabama money.Ella is being harassed with anonymous letters, silent telephone calls and 'presents' and all the fingers are pointing at Reed Conway who protested his innocence to no avail. Carolyn is worried that her daughter may be the target of Conway and wants him returned to prison. The real culprit would also like to see Reed returned to prison as they would not like the murder of Junior Blalock for which Reed was convicted, reopened and the truth be out. They will go to any lengths to keep that secret and that includes shooting the centre and dropping a dead body to muddy the waters.The murderer in the end believes that the only way to get Conway returned to prison will be to murder the ultimate person, Ella; nobody anywhere would believe anything he said in his defence. It becomes a race to the death literally and just for added fun there is a twist at the end and a few more bodies piled up.This is a great read and a fantastic thriller that delivers on all levels with love lust and murder, what more can a person want in one book. The writing is sharp, the imagery was clear and the setting was perfect and the characters were wonderfully rounded with all the hang-ups that all people have in life. A perfect book for lovers of crime thrillers that has an addictive story and it hits the mark.
Review by shelleyraec
16/06/2015
I'll Be Watching You by Beverly Barton is a romantic suspense novel with elements of erotica and mystery. After spending fifteen years in jail for a crime he did not commit, Reed Conway is determined to return to Spring Creek and prove his innocence by outing whoever really slit his step father's throat. When Ella Porter, the daughter of the man who secured Reed's conviction, receives a vulgar and threatening anonymous letter the day after Reed is paroled, Reed is an immediate suspect but after Ella confronts him, she As threats against the Porter family escalate Ella, swayed by Reed's sexy charm, begins to believe in his claim that he is being framed now, as he was fifteen years ago, but can she really trust a man convicted of murder with her life?Unfortunately I wasn't terribly impressed with this story. The plot resembles a daytime soap opera arc with the a small cast tangled in an almost incestuous web of abuse, deceit, betrayal, adultery, obsession, and murder. The suspense is okay but the plot shocks are fairly heavily foreshadowed and when the killer's identity was revealed, I realised I wasn't surprised in the least.The narrative is written in the third person using multiple perspectives, including that of the anonymous killer. If I am honest, I didn't find any of the the characters very convincing as individuals, not helped by their convoluted relationships to one another.Nearly thirty and a circuit judge, Ella Porter lacked the presence or personality I would expect from such an accomplished, mature woman. She's a daddy's girl, believing him to be infallible and completely clueless about the state of her parents marriage. And despite believing that Reed is a killer who plans to harm her, she dissolves anytime Reed looks her way.Reed is described appealingly "A good six three. Broad shoulders. Biceps bulging…surprisingly tanned…thick tawny hair curled about his neck and ears…A lazy, raw sensuality oozed from his pores." However the moment he is distracted by Ella he completely forgets about searching for the killer who framed him, despite spending the last 15 years in prison waiting for his opportunity to prove his innocence.The chemistry between them is a bit contrived (bad boy meets good girl) but the erotic scenes are written well enough, if a little florid. Be aware that Ella and Reed aren't the only couple to share some steamy moments, and there are several erotic encounters through the book.There is a distinct southern small town feel to the setting, both through the use of double barreled first names like Jeff Henry and Joe Brierly and the brief descriptions of the town and its social structure. The language is a bit odd though, sometimes feeling very stilted and formal for such a contemporary setting. I think it was an attempt by the author to distinguish between class – but it just came off as weird.Though I'll Be Watching You didn't really work for me, it was a quick and undemanding read. it seems to have an appreciative audience from readers who enjoy the soap opera style melodrama and sexy bits, so if that is you..enjoy!
Review by greatbookescapes
16/06/2015
I didn't expect that! This crime thriller turned out to be a complex STEAMY crime-thriller, oh yeah!<br/><br/>Barton gives us characters that would not look out of place in a major American Soap it reminded me a tiny bit of 'Dallas' the TV series, so many wonderful characters in the main family. Reading this book is like watching an episode and being left on a cliff hanger till next week. I was so excited to find out what was happening next.<br/><br/>An intriguing <i>'who done it, way back and whose still doing it'.</i> I genuinely could not guess what was going to happen and who was doing what. So many red herrings given out as truths to made me think 'ah yes now I know who is doing it', only to be given the slow smile to say 'nope wrong again'!<br/><br/>Webb Porter an important man in an important family with secrets that cannot be hidden forever, Reed Conway a man who served 15 years for a murder he claims he did not commit, a town dismayed to see him now back amongst them, and now crimes happen which point a finger at him. Will anyone finally believe he is innocent? The only way to clear his name is to find the person who killed his stepfather and now wants him back in prison.<br/><br/>I love how there is everything in this book, murder, romance, sex, thrills, sex, did I say sex? Very steamy, I shan't say more because I don't want to give a spoiler, but that was a surprise I wasn't expecting.<br/><br/>The pace is fast, the complexity of the plot easy to follow, the characters wonderfully irritating, nasty and nice, there is justice, injustice and tensions that create a cracking story.<br/><br/>Would I recommend it? Hell yes…<br/><br/> <b><i>"Y'all you just gotta read this book to get your pulse a racing and your mind a spinning!"</i></b><br/><br/><i>Many thanks to the Publisher for a copy of this book via NetGalley in return for my honest review.</i>
Review by greatbookescapes
16/06/2015
I didn't expect that! This crime thriller turned out to be a complex STEAMY crime-thriller, oh yeah!<br/><br/>Barton gives us characters that would not look out of place in a major American Soap it reminded me a tiny bit of 'Dallas' the TV series, so many wonderful characters in the main family. Reading this book is like watching an episode and being left on a cliff hanger till next week. I was so excited to find out what was happening next.<br/><br/>An intriguing <i>'who done it, way back and whose still doing it'.</i> I genuinely could not guess what was going to happen and who was doing what. So many red herrings given out as truths to made me think 'ah yes now I know who is doing it', only to be given the slow smile to say 'nope wrong again'!<br/><br/>Webb Porter an important man in an important family with secrets that cannot be hidden forever, Reed Conway a man who served 15 years for a murder he claims he did not commit, a town dismayed to see him now back amongst them, and now crimes happen which point a finger at him. Will anyone finally believe he is innocent? The only way to clear his name is to find the person who killed his stepfather and now wants him back in prison.<br/><br/>I love how there is everything in this book, murder, romance, sex, thrills, sex, did I say sex? Very steamy, I shan't say more because I don't want to give a spoiler, but that was a surprise I wasn't expecting.<br/><br/>The pace is fast, the complexity of the plot easy to follow, the characters wonderfully irritating, nasty and nice, there is justice, injustice and tensions that create a cracking story.<br/><br/>Would I recommend it? Hell yes…<br/><br/> <b><i>"Y'all you just gotta read this book to get your pulse a racing and your mind a spinning!"</i></b><br/><br/><i>Many thanks to the Publisher for a copy of this book via NetGalley in return for my honest review.</i>
Review by greatbookescapes
16/06/2015
I didn't expect that! This crime thriller turned out to be a complex STEAMY crime-thriller, oh yeah!<br/><br/>Barton gives us characters that would not look out of place in a major American Soap it reminded me a tiny bit of 'Dallas' the TV series, so many wonderful characters in the main family. Reading this book is like watching an episode and being left on a cliff hanger till next week. I was so excited to find out what was happening next.<br/><br/>An intriguing <i>'who done it, way back and whose still doing it'.</i> I genuinely could not guess what was going to happen and who was doing what. So many red herrings given out as truths to made me think 'ah yes now I know who is doing it', only to be given the slow smile to say 'nope wrong again'!<br/><br/>Webb Porter an important man in an important family with secrets that cannot be hidden forever, Reed Conway a man who served 15 years for a murder he claims he did not commit, a town dismayed to see him now back amongst them, and now crimes happen which point a finger at him. Will anyone finally believe he is innocent? The only way to clear his name is to find the person who killed his stepfather and now wants him back in prison.<br/><br/>I love how there is everything in this book, murder, romance, sex, thrills, sex, did I say sex? Very steamy, I shan't say more because I don't want to give a spoiler, but that was a surprise I wasn't expecting.<br/><br/>The pace is fast, the complexity of the plot easy to follow, the characters wonderfully irritating, nasty and nice, there is justice, injustice and tensions that create a cracking story.<br/><br/>Would I recommend it? Hell yes…<br/><br/> <b><i>"Y'all you just gotta read this book to get your pulse a racing and your mind a spinning!"</i></b><br/><br/><i>Many thanks to the Publisher for a copy of this book via NetGalley in return for my honest review.</i>