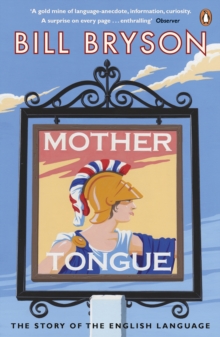 Mother Tongue: The Story of the English Language
Paperback
Description
'More than 300 million people in the world speak English and the rest, it sometimes seems, try to...' Only Bill Bryson could make a book about the English language so entertaining.
With his boundless enthusiasm and restless eye for the absurd, this is his astonishing tour of English.
From its mongrel origins to its status as the world's most-spoken tongue; its apparent simplicity to its deceptive complexity; its vibrant swearing to its uncertain spelling and pronunciation, Bryson covers all this as well as the many curious eccentricities that make it as maddening to learn as it is flexible to use.
Bill Bryson's classic Mother Tongue is a highly readable and hilarious tale of how English came to be the world's language.
Free Home Delivery
on all orders
Pick up orders
from local bookshops
Reviews
Showing 1 - 2 of 2 reviews.
Review by mjmorrison1971
16/06/2015
Words, we use them everyday but this books takes a look at why those ones, how they are changing, where they come from. For someone who just passed Yr 12 English this was a fascinating read that makes Language interesting.
Review by AdvaKramer
16/06/2015
A hilarious book about the origins of English and its many quirks (and why they happen). A good read for anyone who loves the English language and enjoys philology as a hobby.<br/>Yes, this book is a little outdated; it was written in 1990 and thus leaves out everything that happened since (and a lot has changed, with cell phones, texting and computers). But it does give a great review until that point in time.<br/>It is light, full of sarcasm and light-hearted humour. The book gives a concise run through English origins and the way it developed since (what we have an account of), and also of the weird things that resulted (or just occurred) in the convoluted way of the language's development.<br/>I do wish he would revise the book to add the last 20 years that had a major impact on the language. But it doesn't take from the book's many attributes.<br/>Really, if you love English - read it. You'll enjoy it immensely.