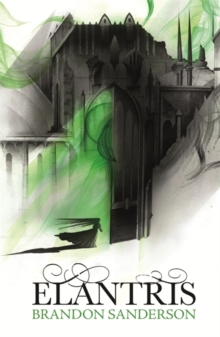 Description
Elantris was built on magic and it thrived. But then the magic began to fade and Elantris began to rot. And now its shattered citizens face domination by a powerful Imperium motivated by dogged religious views.
Can a young Princess unite the people of Elantris, rediscover the lost magic and lead a rebellion against the imperial zealots?
Brandon Sanderson's debut fantasy showed his skill as a storyteller and an imaginer of baroque magical systems to be fully developed from the start.
Information
Format: Paperback
Pages: 656 pages
Publisher: Orion Publishing Co
Publication Date: 11/08/2011
Category: Fantasy
ISBN: 9780575097445
Free Home Delivery
on all orders
Pick up orders
from local bookshops
Reviews
Showing 1 - 2 of 2 reviews.
Review by passion4reading
16/06/2015
This novel tells the story of Elantris, the once glorious capital of Arelon, and its inhabitants who used magic and were worshipped as demigods by the ordinary citizens. Then the unthinkable happened: from one moment to the next, the magic disappeared, Elantris started to decay and the Elantrians were turned into powerless wrecks, feared and despised by the rest of the world. Against this backdrop, two foreigners arrive in Arelon with two very different purposes: Sarene, a Teoish princess, to marry the crown prince Raoden, and Hrathen, a Fjordell high priest, to convert the people to the faith of Shu-Dereth.As always I have to admire a fantasy writer's ability to conjure up different worlds, people and languages, even alphabets and maps, and Brandon Sanderson is no exception. A lot of thought has gone into the creation of the continent of Opelon and its peoples. I just wish his main characters were equally well developed, but, with the exception of Hrathen, they are fairly stereotypical and not as complex as one would hope, the romance verging on the slushy at times in my opinion. The plot unravels with a certain predictability, and the pace is quite uneven in places. Even though the descriptions, of Elantris and its inhabitants in particular, are very evocative, the prose, and especially the dialogue, is often clunky.This was Brandon Sanderson's debut novel; I am curious to see how his writing has improved in, say, the Mistborn trilogy: a generous four stars.
Review by tigerbuns
16/06/2015
Hovering between 3.5 and 4 stars, I decided to give this a Sanderson-bonus and went with 4. The book was interesting and entertaining and (like everything else I've read by Sanderson so far) an absolute page-turner once I got into it, but it had a number of flaws that made me glad it wasn't my first foray into the author's work.<br/><br/>Elantris seems very much like a prototype for the Mistborn series since a lot of the ideas brought up here are explored later in greater depth in the Mistborn trilogy. There's politics, the clash of religions (Atheists go ahead! Don't worry, Sanderson is really good at including religious themes and questions in a tolerant, non-preachy, thoughtful and reflective way), questions of leadership, questions of identity, and the problem of finding a balance between said identity and being a leader. Even some of the characters felt like prototypes for the Mistborn guys (Raoden=Kelsier with a bit of Elend thrown in, Sarene=Vin, the rest of the crew smacking a little of Breezy, Hammond and Dox).<br/><br/>The thing is, the ideas are only <i>brought up</i>, and I don't think I would have quite grasped the depth of what Mr Sanderson was trying to do if I hadn't been running a comparative commentary in my head all the time. A lot of stuff just fell short - and "short" is a general problem with the book: the time frame given for the events just seems impossible. It would have been better if things hadn't been crammed into the course of a few weeks, because everything the heroes and antiheroes achieved in that time seemed humanly impossible and thus fairly unbelievable. It also gave the feeling of "if it's *that* easy, why hasn't anyone done anything before?". Which brings up another complaint (I'm the master of smooooth transitions today): The solutions this time (as opposed to the ones in Mistborn) were a little too obvious, and the passivity (inertia? acquiescence?) of simply everyone else but our heroes was not convincing.<br/><br/>What I'm trying to say is: the two heroes were practically saving a whole country by means that didn't seem so very far-fetched in an extremely short time while everyone else around them was either moping, looking away, concentrating on luxuries or being a sheep - and now that I've typed it out it *does* look like an accurate depiction of mankind, but well, in the context of the book it just seemed like a stage for the greatness of the protagonists.<br/><br/>There were also a lot more plot holes or inconsistencies than in Mistborn. The trilogy impressed me because every little thing that caught my eye or made me suspicious or felt like a plot hole turned out to be important later on, and most inconsistencies were actually clues to what was really going on. Not quite so here, unfortunately, but it didn't really detract that much from the enjoyment (although the added enjoyment I got out of it in Mistborn was missing too, of course.)<br/><br/>Anyway! Despite the flaws, I *liked* the book. The magic system was as usual very unusual, and I would like to read more about it and more about Elantris (300 years earlier, 300 years later, same time as the first book, I don't care), anytime. I really liked the protagonists despite their uncanny cleverness and the author's slightly heavy-handed attempts at creating flaws so as not to make them superhuman, and although from time to time I did press my lips together and shake my head critically, I was satisfied when I finished the book.<br/><br/>I wouldn't recommend it to first-time Sanderson readers, but people who enjoyed Mistborn should give it a try, because besides a gripping story it also offers an interesting insight into the development of ideas and authorial skills. The book is a lot like an overenthusiastic puppy that you know will one day be a great dog - but before I do anything more like comparing a novel to a dog, I'll stop here.<br/><br/>Edit to add: Oh, and the naming was a little over the top sometimes - many of the city names etc. and most of the Derethi priesthood titles just seemed like a bunch of made-up words. Except "gyorn", that was a good one.