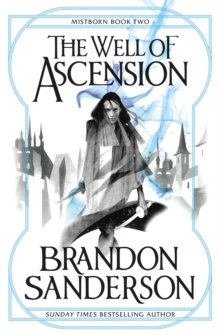 The Well of Ascension : Mistborn Book Two
Paperback
Part of the Mistborn series
Description
The impossible has happened. The Lord Ruler is dead has been vanquished. But so too is Kelsier the man who masterminded the triumph.
The awesome task of rebuilding the world has been left to his protege Vin; a one-time street urchin, now the most powerful Mistborn in the land. Worryingly for her Vin has become the focus of a new religion, a development that leaves her intensely uneasy.
More worryingly still the mists have become unpredictable since the Lord Ruler died and a strage vaprous entity is stalking Vin. As the siege of Luthadel intensifies the ancient legend of the Well of Ascension offers the only glimmer of hope.
But no-one knows where it is or what it can do...
Information
Format: Paperback
Pages: 800 pages, maps
Publisher: Orion Publishing Co
Publication Date: 01/12/2009
Category: Fantasy
ISBN: 9780575089938
Free Home Delivery
on all orders
Pick up orders
from local bookshops
Reviews
Showing 1 - 4 of 4 reviews.
Review by wyvernfriend
16/06/2015
Usefully for me, having read the first book in the series many months ago there was a synopsis of the first book in the back of the book (unfortunately I didn't find it until I was several chapters in, but I muddled through). The first book saw the heroes overcome the semi-immortal bad guy who had won many years ago, a man who had supressed religion, except the one he liked, maintained a peasant underclass and a noble upper class and had generally encouraged division and strife. Now Elend Venture is king, but can his ideals stand up to the pressure of ruling and his father wanting to wrest the power from him. Vin is still working on controling her powers, working out what her relationship with Elend is and the two of them have to face up to two and then later a third army on their doorstep.Lies and suspicions abound and the characters grow and twist. I enjoyed the read, Vin and Elend are characters with a lot of interesting flaws and virtues, who have to face up to problems and live with the consequences of their actions. I am looking forward to the third book in this series.
Review by eleanor_eader
16/06/2015
More intriguing storytelling, wherein Vin and Eland do not seem to know when to stop helping people into more trouble. Having overthrown the Lord Ruler, they now have to keep Luthadel from falling to one or more of the three armies perched nearby, keep the throne and their lives, find the Lord Ruler's atium stash and discover the Well of Ascension, as well as whatever it is the Well is supposed to have saved them from the first time around. Two slight negative points that kept getting stuck in my teeth…Point the first: Insane people should never be called Zane. <i>No one</i> should be named random things out of the dictionary: Ham, Spook, Breeze, Eland, Marsh. And don't even get me started on the people whose names were just made up. Someone should noun-sweep the author's work before publishing. Point the second: fantasy fiction character dialogue should not make them sound like modern day Americans.Other than this, I really enjoyed this book. Sanderson is forever pulling brilliant ideas out of his hat, and the history of the world which Vin, Eland and of course Sazed, unravel, even while the world itself is unravelling, is fascinating. Most successful fantasy-fiction authors excel at world-building, but Sanderson somehow pulls it in reverse; world demolition. The characters are portrayed with varying degrees of depth; Sazed, and the Kandra, Ore Seur, are both remarkable (and quite sensibly named), while some of the Crew would be interchangeable in dialogue if the author didn't keep reminding the reader of various character traits. My absolute favourite thing about this second book, however, is that the author stopped using the phrase 'even still'.
Review by stefferoo
16/06/2015
Any book that has been more than a few years since I'd read it, I hesitate to rate. I find it hard to judge a book fairly in such cases, as unless it was either really amazing or really awful, unfortunately my memory gets fuzzy after a while.Anyway, I began reading the Mistborn series back when they were just published. Since then I've only re-read and rated The Final Empire, which is alraedy rare for me as I don't often go back to books I've finished. Still, I planned to do it with the rest of the trilogy, so when I found the audiobooks at my county's digital library, I jumped at the opportunity to borrow the second book as I was also curious what I would think of the audio version.After completing The Well of Ascension again, I realized I have indeed forgotten a lot of this series, so much so that it was like reading the book for the first time, with just a few inklings of familiarity with the events. It's not that I disliked the book when I first read it back in 2007; in fact, I remember only positive feelings associated with the experience.Still, having read a lot more Sanderson since then, I definitely sense a vast difference between his new stuff compared to his older stuff. I don't think he has ever written anything I truly disliked, but besides his wonderful magic systems, I find that the stories and the characters from some of his early works are pretty forgettable.Indeed, what I remembered the most about the Mistborn series was the allomancy, while the details of everything else had escaped my mind. For example, I remembered Vin was a Mistborn, an allomancer capable of burning all metals and using their associated abilities...and yet, I had forgotten her name! While I loved the unique magic system in these books, it became the most memorable factor for me while relegating characters and stories to the backseat.I suppose it also didn't help that this second book seemed to merely act as a link between the first and third books. Even though its events lent itself to a clear sequel, the first book was almost in a way a self-contained story, with a structured beginning, middle and end.In contrast, the second book, while featuring many story elements like multiple plot arcs and unexpected twists, seemed to lack a focus. There were several threads happening all at once, such as Elend's struggle to keep the throne while dealing with his morals being at odds with what it means to be a "good" king. There was Vin's uncertain feelings about her relationship with him and her flirting with danger with another Mistborn, and her task of flushing out a secret imposter. Then of course there was the war with the two armies outside their gates, as well as the political machinations in the palace. Not to mention the ongoing search for the Well of Ascension and uncovering the mystery of the mists and the Deepness. It's all setting up for one hell of a finale, but it's no wonder I only remembered bits and pieces of this book.
Review by infjsarah
16/06/2015
Although it was slow to start, I did enjoy this.