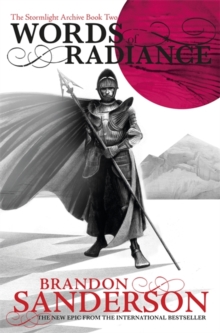 Words of Radiance
Hardback
Description
From the bestselling author who completed Robert Jordan's epic WHEEL OF TIME series comes a new, original creation that matches anything else in modern fantasy for epic scope, thrilling imagination, superb characters and sheer addictiveness.
Return to a planet swept by apocalyptic storms, a world tipping into war as aristocratic families move to control the shard blades and shard plates, ancient artifacts from a past civilisation that can win wars. As the world tips into a war for control of the mythical artifacts of power made from Shard, characters are swept up into new dangers which will threaten their integrity and their lives. Huge, ideas-filled, world-spanning fantasy from a master of the genre.
Information
Format: Hardback
Pages: 1088 pages
Publisher: Orion Publishing Co
Publication Date: 06/03/2014
Category: Fantasy
ISBN: 9780575099043
Free Home Delivery
on all orders
Pick up orders
from local bookshops
Reviews
Showing 1 - 1 of 1 reviews.
Review by reading_fox
16/06/2015
Very very long again. Although I think actually shorter than the first book which is a relief. I'm not entirely sure that it's all justified by the plot. I hope that Brandon has got a complete overview of where he's going with all this, but I suspect that he's more or less making it up as it goes along, which doesn't bode well for the word count. It also means that many concepts that get introduced aren't fully thought through which (like the bridges, although we're mostly spared that particular physical impossibility) remain irritating. Of particular note are the concept of Spren, who sometimes will interact with humans, and sometimes are just manifestations. There are far too many different types for them all to interact, within the limitations brandon's already established, but the choice of those that do seems entirely arbitrary.We follow the same few characters through more of the somewhat unnecessary twists and turns until the forgone conclusion is finally reached. We have now established our heroes and mostly identified the enemy although there still seem to be several groups of mixed aims interfering along the way. Its also not quite yet sure which of the higher powers are actually involved and who they are supporting. The world building remains clever, the politics complicated, and it was an enjoyable read. But not engrossing. Every time we changed character I could happily put the book down and do something else. Sometimes characters would get their own chapter, and sometimes we'd get several all mixed into a few paragraphs. This worked better for maintaining the action, and sense of drama - necessary after 1000 pages - but was inconsistent, and frequently annoying. I did like that not all the characters had easy choices to make, with heavy consequences on either option - and sometimes third ways possible around the dilemma. It was of course a fairly significant plot point for Kaladen, but an issue for others too. Shallen's spren needs a lot more explaining, which I'd hoped we'd have had by now. Significant hooks are set for the start of the next volume but that seems some way away. I'm not that bothered, and I'll probably read it in due course, without enduring all 1000 pages of this again.
Also in the The Stormlight Archive series | View all