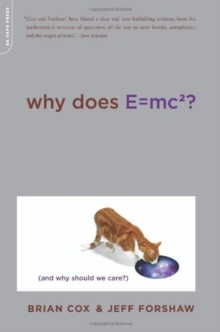 Why Does E=mc2? : (and Why Should We Care?)
Paperback
Description
This is an engaging and accessible explanation of Einstein's equation that explores the principles of physics through everyday life.
Professor Brian Cox and Professor Jeff Forshaw go on a journey to the frontier of 21st century science to consider the real meaning behind the iconic sequence of symbols that make up Einstein's most famous equation.
Breaking down the symbols themselves, they pose a series of questions: What is energy?
What is mass? What has the speed of light got to do with energy and mass?
In answering these questions, they take us to the site of one of the largest scientific experiments ever conducted.
Lying beneath the city of Geneva, straddling the Franco-Swiss boarder, is a 27 km particle accelerator, known as the Large Hadron Collider.
Using this gigantic machine - which can recreate conditions in the early Universe fractions of a second after the Big Bang - Cox and Forshaw will describe the current theory behind the origin of mass.
Alongside questions of energy and mass, they will consider the third, and perhaps, most intriguing element of the equation: 'c' - or the speed of light.
Why is it that the speed of light is the exchange rate?Answering this question is at the heart of the investigation as the authors demonstrate how, in order to truly understand why E=mc2, we first must understand why we must move forward in time and not backwards and how objects in our 3-dimensional world actually move in 4-dimensional space-time.
In other words, how the very fabric of our world is constructed.
A collaboration between two of the youngest professors in the UK, "Why Does E=MC2?" promises to be one of the most exciting and accessible explanations of the theory of relativity in recent years.
Information
Format: Paperback
Pages: 272 pages, 25 illustrations
Publisher: The Perseus Books Group
Publication Date: 04/03/2010
Category: Popular science
ISBN: 9780306819117
Free Home Delivery
on all orders
Pick up orders
from local bookshops
Reviews
Showing 1 - 1 of 1 reviews.
Review by mumfie
16/06/2015
This is a very clear explanation of physics in a readable format that should be accessible to those with little prior knowledge. Unlike many of its type, it does not stop at E=mc2 but takes us forward to where physics is now, slotting a famous equation into perspective and making it part of a whole voyage of discovery.The authors' joy of physics is also conveyed in a book that bubbles with enthusiasm and excitement and sheer delight in the wonders of discovery. The last couple of pages in particular are uplifting in their celebration of achievement.